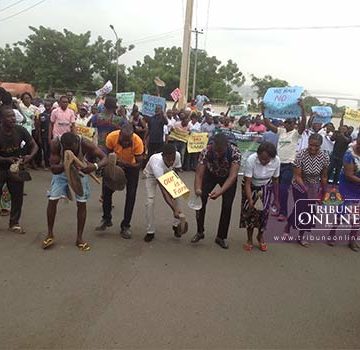 YOUTHS  across Benue State under the auspices of ' Strict Movement Against Ravages in Tivland (SMART-Land) which comprises; Yoruba, Igbo and Inaw communities in Benue had  marched round major streets of Makurdi, capital city of Benue and called on federal government to make available Sambisa forest for herdsmen instead of opposing the new open grazing law in Benue state.
The people in their hundreds with various banners rallied support for anti-open gazing law and vowed to protect and preserve their land from the herdsmen.
The match protest which was tagged 'a million Benue peaceful walk to support the implementation of the open grazed,' stormed the state assembly complex and terminated their match at government house, Makurdi.
Speaking on behalf of the groups, the national coordinator of the association, Gbakighir Sevendagas said, 'as a group, we are directly or indirectly affected, our inheritance is subverted after more than two years we are ready to protect and preserve our inheritance for the future generation.'
The groups expressed serious concern that the insistence of open grazing law by Fulani herdsmen was to promote jihad in the state and called on the state government to stop the encroachment of major roads and streets in the state for religious activities.
The group also called on federal government to immediately arrest and prosecution of the leadership of Miyeitti Allah Kauta Hore over a threat of attack on the state.
At the house of assembly, speaker Terkinbir Ikyangir said the house stands by the executive in implementing the law, but regretted that it was only in Nigeria that laws are broken at will, stressing that the assembly would continue to support the executive to ensure the full implementation of the law.
Addressing the crowd, governor Samuel Ortom said that the state government would ensure full implementation of the new anti-grazing law expected to commence Wednesday, November, 1st, 2017, 'even if amounts to going to International Court in Hague.
Represented by his deputy Benson Abounu, the governor while receiving in audience youths under the auspices of 'Strict Movement Against Ravages in Tivland,'  SMART land ' said that people of the state demanded the law.
Ortom explained that the aim of the law was to protect lives and property of residents of Benue State, 'irrespective of their religion and nationality, that is why we have Igbo, Yoruba and other communities in the group here today.'
He stated that government would continue to live up to its constitutional responsibility to protect lives and property in the state.
"The law is to protect all classes of people of Benue State because the law makes provision against cattle rustling and destruction to crop farming, as from Wednesday, the law will take effect and there is no going back on the law because even if it amounts to going to International Court in Hague," Ortom.