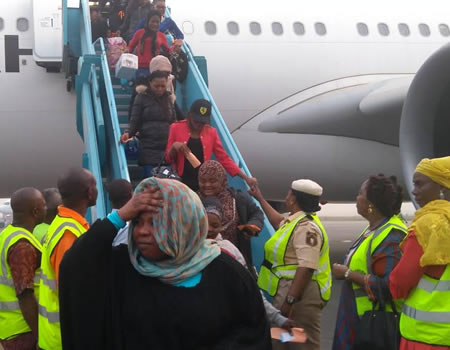 Less than 24 hours after receiving a set of 157 Nigerian returnees from Libya, the agency yesterday night again received another batch of 257  fresh returnees from the International Organization for Migration at the cargo wing of the Murtala Muhammed International Airport.
The latest arrival has made it a total of 414 returnees received 
in two days
.
The Afriqiyah Airbus A330-300 aircraft marked 5A-OMR which brought them landed at the Lagos airport at 
6.30pm
 at the cargo wing of the airport with 152 adult females and 82 adult males including 9 children and 14 infants with one medical case.
The repatriation exercise spearheaded by IOM with special assistant from EU has brought the total number received to 6,672 from January to 
28th. December 2017
.
Most of the returnees are from City Center of Tripoli who have been engaged in one work or the other but could not repatriate their earnings back to Nigeria as they wish.
Most of the returnees had regretted their plights narrating how the  Libyans burst their homes and carted away their savings thus returning to Nigeria with nothing tangible except clothes and shoes.
The director general of NEMA, Engineer Mustapha Maihajja who received the returnees on behalf of federal government praised the IOM for their efforts at continuing the repatriation exercises at the time when they should be enjoying the festive season.
Represented by the Southwest Coordinator of the agency, Alhaji Suleiman Yakubu, the director general, NEMA enjoined the returnees to join hands with various government agencies to unravel the identity of the ringleaders who have been deceiving and misleading "our youths into this regrettable sojourn that many of the victims have led to irredeemable losses."
He assured them that government would treat all information with utmost confidentiality and secrecy needed.
The director general allayed fears of being hypnotized and any spiritual consequences for exposing these evils to debar you fro rendering assistance to government and the general public, we need to talk for people to learn and be guided.