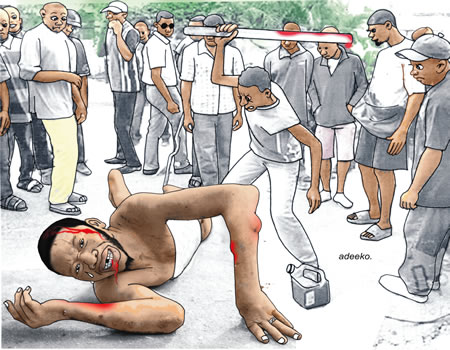 TUNDE ALAO brings to the fore the new challenge Ikorodu division is facing after the Badoo crisis. OLALEKAN OLABULO and SHEHU BELLO provide funny but deadly angles to the new taboo.
AT the peak of the activities of the notorious killer cult group, "Badoo Boys," the seeming inability of security operatives to arrest the situation compelled Ikorodu residents to resort to meting instant "justice" to suspected members of the group by lynching them. At some point, neighbourhood vigilance groups were established to deal with the situation in places like Agbowa, Ibeshe and Agric.
In their bid to stop the murderous invaders, the residents got dangerously proactive. To stop the cultists, the vigilance groups embarked on self-organised stop-and-search on the roads. They particularly frisked motorists to their pants, especially at night. And what were they looking for? White handkerchiefs, black engine oil and grinding stone; objects that are usually used by the suspected cultists to attack their victims. The outcome of the unauthorised security measure has, however, been unpleasant.
An instance was the killing of an upcoming comedian, Chinedu Paul, a graduate of the Lagos State Polytechnic, Ikorodu, who used the stage name MC Think Twice. He was murdered by an angry mob in the town after being deemed a member of the cult group. The incident occurred in the early hours of Sunday, July 2, 2017. Paul was said to be one of three persons who were accosted by the local vigilantes in the troubled Lagos suburb and burnt to death. Reports had it that Paul and the others were found in a sport-utility vehicle after midnight with a "stone, white handkerchief and black engine oil," items used in Badoo attacks.
A source who claimed to be a friend of the comedian told journalists how Paul was killed: "Paul's car had broken down at the Odogunyan area at midnight. He had just returned from the filming of IK's talk show. He went with the two others to seek help to tow the car from the area when they were accosted by an angry mob. The mob claimed they found engine oil, cutlass and a grinding stone in the car, and they descended on them."
There is the case of another suspected member of the Badoo cult group. He was accused of being part of the murder of some families in the town and after being arrested at Unity Close, he was dealt a similar cruel fate. What gave him to instant justice was the same items – black oil rubbed all over his body, stone and pieces of white handkerchief tucked in his pockets.
These and other unreported cases have now caused certain items to become 'forbidden' for the people of Ikorodu and those who are familiar with the town.
"It got to a point where car owners stopped putting packs of handkerchiefs inside their vehicles for fear of being branded Badoo members or sponsors. One day, there was a misunderstanding between an okada operator and a motorist. As the okada man was trying to meander between two vehicles, he hit a 2014 model of a Toyota Land Cruiser. In the ensuing melee, the owner of the vehicle was so hard on the motorcyclist, who sensed the 'danger' of being taken to the police station. Suddenly, we saw okada operators milling around the vehicle. While some of them were appealing for leniency, one just shouted 'Badoo man! See plenty of handkerchiefs on the seat of his vehicle!' My brother, it would have been another unpalatable story if not for the intervention of those inside a nearby mosque who knew it was a sheer mischief by the okada operators who wanted their colleague to escape," a petrol attendant told Saturday Tribune. The attendant shared the information with one of our correspondents after warning him against displaying handkerchiefs carelessly, especially if it was white.
Also Read: http://tribuneonlineng.com/badoo-police-arrest-87-suspects-reveal-wanted-list-photos/
Upon interactions with some people in Ikorodu, it was discovered that many who heard about the incidents stopped buying white handkerchief and switched to coloured ones.
An events centre owner, Mr Jimoh Adigun, said he used to buy packs of white handkerchiefs but stopped "for fear of being mistaken for or accused of being a Badoo. Instead, I now use small, coloured towels," he said.
Another resident, a car wash operator, said he usually advised his customers not to keep more than one handkerchief at a time, especially if it was white. "I think it is safe to stop carrying packs of white handkerchiefs if one is used to it. One or two handkerchiefs are okay and one should ensure that they are not neat. The reason is that if one is stopped at night – God forbid – and one is unlucky, one can be accused of being a Badoo member. I always advise my customers because we are not in a sane society," he said.
A senior police officer, who spoke with Saturday Tribune, agreed with the advice. "Beyond handkerchief, people should not carry kegs of engine oil after servicing their vehicles. Rational behaviour is alien to mob action. Immediately someone says 'look at the car boot, there is a gallon of engine oil there' and if by any misfortune, you have a bundle of handkerchiefs inside your safe, problem will start. This is a time of anomie. So, I will urge people to be extra careful," said the law enforcement agent.
When Saturday Tribune sought to know about the buying trend from a couple of hawkers of the items, particularly white handkerchiefs, in Mile-12 and Ikorodu, one who identified himself simply as Chidi said when the Badoo cases were rampant, he noticed that people bought coloured handkerchiefs more than white ones. "Me I no know say na the fear of Badoo. We just notice say people no dey buy white handkerchief much, but other colours. Me wey dey sell sef no fit carry the thing openly when I close for road", he said.
Another hawker who identified himself as Monday said he didn't notice the change initially. "When my brother who we dey sell together talk about the thing na den I dey notice say na true, people dey buy other colour than white".
It was gathered that quto mechanics in Ikorodu have also resolved not to give out free black oil as a result of the linking of black oil to Badoo activities in the town. Some mechanics also said the Badoo incident is now affecting drivers in Ikorodu as they no longer keep black oil in their vehicles for fear of suspicion and jungle justice.
An auto mechanic who identified himself as Taiwo Soyombo said, "Certainly, the Badoo/black oil issue is affecting our operation. People no longer keep black oil in their vehicles. People keep black oil in their vehicles to top up the oil in steering rack and other things like power steering when the level is lower than the normal gauge, but they cannot do that again. They usually ensure that they have enough oil at home and when there is a shortage on the way, they have no choice but to buy."
Also Read: http://tribuneonlineng.com/jungle-justice-people-quick-mete-instant-justice-suspects/
Soyombo also said that the auto mechanic union in the town had directed its members not to give free and unused black oil on demand. "Our association has warned that our members should not be giving black oil to people, especially strangers. Giving black oil to people can implicate even the mechanic," he added.
Another mechanic at Lambo Lasunwon, Rasheed Biola, said the Badoo issue had made them cautious. "We are now careful. You know, they said people engage in Badoo rituals, use diesel and stones which we usually use for work. We are now very careful. Even after work, we change our clothes and take a bath so that we are not tagged members of the gang.
Also, Abiola Farouk, a mechanic based in Odogunyan, said they now bathed after work. "We have been told by our boss to always look clean. Before, we could go home with our work clothes, but now, we take a bath at work and change our clothes before going home so that we are not tagged Badoo," he said.
Another mechanic who only identified himself as Segun said the actions of the gang have affected business. "Their activities have affected us. We usually worked till 9.00 p.m. before the gang started their operations but since the Badoo gang went on a killing spree and the whole town became tense, we now close by 5.00 p.m. and rush home before darkness falls. Everyone is now careful and doesn't want to be tagged a Badoo member or even a kidnapper," he said.
Some other mechanics and their apprentices approached by Saturday Tribune in another part of the town, however, said they had no problem with their oil-stained clothes. They claimed that the residents who indulged in jungle justice believed that members of the Badoo cult group operated without their clothes on.
An apprentice, Quadri Lawal, said, "We don't have any problem with Badoo because of our dirty clothes. They know that Badoo members usually operate without their clothes. They have never attacked any of us as a result of dirty uniform." He added: "The only thing is that you cannot carry black oil around in your dirty clothes. The people are concerned about grinding stone and oil, not about dirty uniform."
Meanwhile, an advocacy group, the Ikorodu Ambassadors Group, has continued to sensitise residents on the implications of jungle justice. "We say no to jungle justice because in every 10 cases, nine involve innocent lives. Let us all say no to jungle justice and do the right thing by arresting suspected criminals and taking their pictures before handing them over to the police or vigilance members. We should make sure we do a follow-up by following them to the police station to write statements. We can even request to be involved in the investigations," the group said during one of its outings.
The immediate past Commissioner of Police in Lagos State, Fatai Owoseni as well as social and cultural groups in Ikorodu have also kicked against the new frightening security trend. But no one seems to have an answer yet to what is now gradually settling upon one of the original five divisions of the state as a taboo.