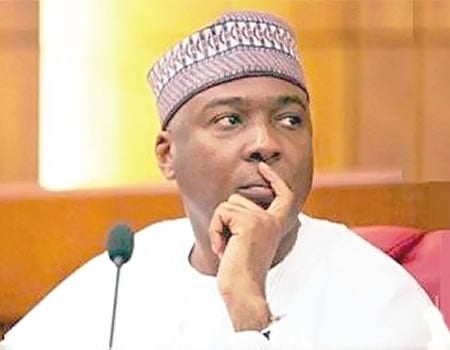 The Senate President Bukola Saraki, at the weekend, paid a solidarity visit to Governor Udom Emmanuel of Akwa Ibom State, urging him not to allow himself to be bothered by the defection of Senator Godswill Akpabio to the All Progressives Congress (APC).
The Senate president he engaged the governor for about 30 minutes in a closed-meeting before they addressed some national and state leaders of the PDP at Government House, Uyo.
Senators Albert Akpan, Dino Melaye, Biodun Olujimi, Philips Aduda, Clifford Odia and Isa Misau, accompanied Saraki to Uyo, where he also praised the administration's achievements in the last three years.
Saraki added that with the positive imprints of development everywhere in the state, the defection of the former Minority Leader of the Senate would not stop the governor's re-election in 2019.
"We are here on a solidarity visit to you and the people of Akwa Ibom State. Know that we are strongly behind you because you have served your people well.
"You have done a lot of good work here and you should not be distracted," he said, urging the governor to take solace in the fact the his support base was still intact.
"Your people are with you, so fear nobody because a situation where only two National Assembly members, and two out of the 26 members of the State House of Assembly went the other way, you still have the majority on you side", he noted.
The governor, who described Saraki's visit as "unprecedented," urged Saraki not to allow his current travails to overwhelm him, pointing out that "they only talk about people who have something to offer."
"You have the support of the Nigerian because you are fighting a good and just cause," he said. He welcomed the Saraki back into the PDP, noting that "APC was just an alliance, but the PDP is just your home where you will find peace".
"You have a lot to offer. That is why you are being talked to. We love the way you protect project Nigeria", he said.