Agriculture revival our priority —Osinbajo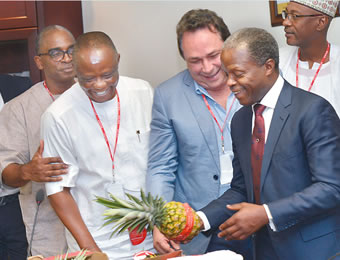 VICE-President Yemi Osinbajo has stressed the importance of reviving the agricultural sector of the country in government's effort to diversify the economy.
Speaking during a meeting at the with a group of Nigerian and Mexican agro-business interests, at the Presidential Villa, Abuja, on Monday, he observed that agriculture was an integral part of the country's plan for sustainable economic growth and development.
"President Buhari has said it repeatedly that agriculture and solid minerals, especially agriculture, is our economic way out. This is the president's vision and our job -the rest of us- is to look for ways to get that dream actualied," he said.
Osinbajo said Buhari was ready to support the agricultural plans "in any way necessary," while assuring that the Federal Government would ensure conducive customs and immigration policies, including tariffs, in order to attain the vision.
He added that this was why the president set up the Presidential Council on the Ease of Doing Business, to attract local and foreign investors.
"There is no doubt in which direction we should go. Agriculture is in the forefront and we do realise the urgency of the moment and the importance of getting things done quickly," he said.
The meeting was attended by the Minister of State for Agriculture and Rural Development, Mr Heineken Lokpobiri who led a Mexican agro-business concern, the San Carlos Group and their Nigerian partner, Wells Farm, from Edo State and the CEO of the Nigerian Export Promotion Council (NEPC), Mr Segun Awolowo.
A statement issued by the Senior Special Assistant to the Vice-President, Laolu Akande, said Wells Farm would partner with Carlos in several agricultural business initiatives and employ a total of about 85,000 Nigerians.