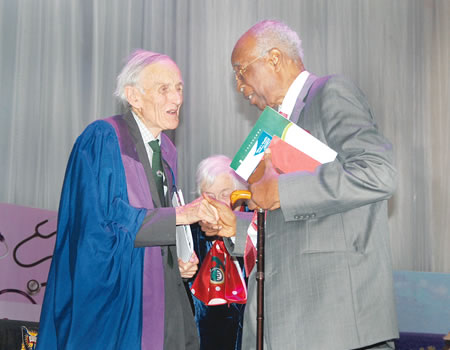 Being lecture delivered by Sir Eldryd Parry at a ceremony to mark Emeritus Professor O.O. Akinkugbe's "Hanging up the Stethoscope" on Thursday, October 25, 2018 at the International Conference Centre, University of Ibadan.
First, I want to thank Professor Oladipo Akinkugbe for the honour and the privilege of his invitation to give this lecture today. Such a large and wide ranging assembly is a testimony to the respect and affection in which he is held at home in Nigeria, but such respect and recognition is also his internationally. Let me mention one such honour. He is numbered among the international scholars, the global statesmen and the Norwegian and Japanese Royal families, elected as Honorary Fellows of Balliol College, Oxford, where he studied for his D Phil. We have been friends and colleagues for about fifty years and it was he, as Vice-Chancellor of the University of lIorin, who asked me to be his foundation dean at the Faculty of Health Sciences.
Please allow me a personal note. Nigeria changed Helen, my wife, and me irrevocably. We owe to this country a profound debt; we shall forever be grateful. We came to Ibadan in 1960; I was seconded for a year to UCH from the Hammersmith Hospital and Royal Postgraduate Medical School, London, agreed between the inaugural Professor of Medicine in Ibadan, the late Professor Alexander Brown, and my professor at that time, Sir John McMichael, FRS. We have lived and worked in and for Africa in different ways ever since.
We sailed from Liverpool and arrived just before Independence.
Hammersmith extended my year to two and a half because work was going well and we felt at home. Our first child was born at UCH, a boy, but I am afraid that we did not call him Adetokunbo. We did not then realise that we had been changed.
It is an honour to speak here in Ibadan where many who have contributed to medicine globally have served, during our time for example, Thomas Lambo, 'Tokunbo Lucas and my former students, Kayode Osuntokun, Akin Salako and the late much respected Babatunde Osotimehin. Our host has asked me to be "benignly provocative", which is as demanding as the title he has suggested!
We came back to Nigeria in January 1969 after London and three years at Haile Sellassie I University, Addis Ababa, because another great Nigerian, the late Professor Ishaya Audu, had invited me to take the Chair of Medicine at Ahmadu Bello University's new Faculty of Medicine. Eight and a half years later in July 1977 we left Zaria for lIorin. I emphasise we, because Helen, my wife who shares Oxford with Professor Akinkugbe, has taught English wherever we have been – including Ibadan Grammar School and the School of Basic Studies (SBS) at ABU. I emphasise the SBS because it expressed Ishaya's determination to bridge the gulf which existed then between the secondary education available in much of the "North ", and the demands of an uncompromising University entrance. Similarly, in the Medical Faculty we spent many hours analysing the geographical, social and educational background of potential students in order to find unfulfilled northern, and very often minority northern, talent. I emphasise our northern credentials deliberately because recent data, which I am going to present, are uncomfortable. My own University, wishing to broaden its entry to include the less privileged in our country, is adopting "contextual university admission" as a policy with a foundation year also.
I shall consider the growth of scientific medicine and of education for health care in Africa, some of the changes and triumphs in the last century and the threats to health and society today. This may also be uncomfortable but, if we are not realistic today, we shall not be ready for tomorrow.
Over the years in Africa I have tried to put the scientific base of "medicine into the context of society, of culture, of geography, of the movement of people. Yet this context has now to be widened globally. Health cannot be considered apart from the effects of climate change, the growth of population, the environment, the economy and thus the future in which health care will be practised. There are formidable challenges, both now and in the future; we medical educators fail if we do not equip our students,' tomorrow's health care workers, to confront them. We have to move the spread and the focus of our teaching beyond traditional biomedical limits into the realm of international reality and opportunity.
While we have to think historically and globally, we cannot escape thinking locally and politically; from the global broad to the local narrow. Lessons learned have to be applied in society. To apply is inescapably political and, again, may be decidedly uncomfortable. In every society it is impossible to separate health from what are now known as its social determinants. In Nigeria, those determinants will vary in importance in different parts of the country. For example, the educated girl will become the educated mother who will not only expect health for her children, and will most importantly limit her family, but will know how to attain and sustain a healthy family. Traditional cultural attitudes, however, may determine whether a girl stays at school. Educational success for a country used to be measured in the enrolment of children at primary school. Many children do not last the course and so it is far better to measure the completion rate which is significantly lower than enrolment in many societies. There are alarming data about out of school children in Nigeria.
Another example is the health of those who live in slums. The local infrastructure, or the lack of it, is fundamental. The local economy and political decisions in a city will determine both what is done to provide infrastructure and essential services for the people, and whether the necessary funding will be made available through taxation. More than half of the sub Saharan Africans who live in cities, live in slums and only 40 percent have access to proper sanitation facilities.
Goals and slogans
Slogans, goals and aspirations for heath are announced regularly; those in the front line of health care may wonder how realistic such aspirations are; they know how tough it is to provide care in their limited area let alone consider how this could be achieved in every country. Universal Health Coverage is today's aspiration; it is a necessary goal and must not be dismissed, because it is a logical expression for health of the Sustainable Development Goals.
Health For all by the Year 2000, which arose out of the Alma Ata Agreement of 1978, itself the result of the resolutions of the World Health Assembly of 1977, was needed then to focus attention beyond the hospital to people in their communities.
The Assembly decided that the main social target of governments and of WHO should be the attainment by everyone worldwide of a level of health that would permit them by the year 2000 to lead a socially and economically productive life in their community. It was amplified for health in the Millennium Development Goals, the MDGs. Jeffrey Sachs reminded us in his tribute in August to that great Ghanaian, Kofi Annan, that it was Annan who championed the MDGs and thus helped to deliver multitudes from poverty. The hard task of delivering what they embody will not be found among those who sit around polished tables in New York or Geneva, nor in the advanced technology of the privileged clinic, but in the primary care post where a mother brings a malnourished baby, or in the urban slum where there is no clean water and where mothers die around childbirth.
First steps in scientific medicine
Professor Alexander Odonga, a Professor of Clinical Surgery at Makerere in the 19805, has credited a pioneer missionary physician, Dr, later Sir Albert, Cook, with the development of scientific medical education in East Africa. After Cook's first and second Mengo Hospitals were destroyed by fire in the 1890s, he built a third, but without a thatched roof. Three things about Cook's work stand out.
First, he was an exemplary clinician; look at the quality of these case notes at Mengo CMS Hospital Kampala in 1905, with the first drawing of a case of Burkitt's lymphoma, characteristically around Second, his vision was to train his Baganda students for a diploma or certificate in medicine. He saw the great value to a Health Service of trained assistants, a model widely adopted and successful in East Africa ever since, whatever terminology is used – assistant medical officer, medical assistant, health officer, or clinical officer. As in Cook's day, so now, the health care problems of Africa were not going to be solved by adding yet more and more doctors. Cook thought the unfashionable and realised that specially trained nurses or medical assistants, some with special skills, would do what doctors could not do because they were too few, too costly and too reluctant to live away from a major centre. I have seen psychiatric clinical officers doing excellent work in rural Uganda, while a colleague in the Wales for Africa Programme trained Health Officers in Ethiopia in life-saving surgery, which indeed they did; his example was Mozambique's strategically effective assistant medical officers, tecnicos de cirurgia.
Cook's third vision was for health assistants to be the nucleus for a University. And so they were. The Mengo Hospital Medical School, started in January 1917, became in 1924 the Mulago Hospital School, later growing into Makerere College's Medical Faculty.
Why was he a great man? Surely it is because he laboured, but did not seek for any reward except that of doing what he believed to be God's will for him; there was no vestige of personal gain, rather he wanted the professional advancement of his health workers, the welfare of the sick of Uganda and the development of the country's education.
In West Africa a visionary in the late mid-nineteenth century, Edward Blyden from St Lucia, argued that Sierra Leone should have a University, but both he and, fifty years later, the Governor of the Gold Coast, frederick Guggisberg, who lobbied for a Medical School in Accra for the British West African Territories, were thwarted by parsimonious and cautious colonial bureaucrats. Guggisberg was honoured, however, both for this attempt and also for his training and encouraging able young men in Government service. His statue was unveiled at Korle Bu Hospital in 1974.