STUDENTS of the Adeyemi College of Education (ACE) Ondo, Ondo state, on Monday went on a rampage, protesting the killing of one of them with two others on the danger list.
The students who rushed the three victims to the Trauma Center in Ondo town, immediately the incident happened blocked the main road leading to the school, immediately one of the victims was pronounced dead.
The angry students who had earlier descended on the driver of the BMW car, who escaped being lynched to death, however, set the of car ablaze.
According to one of the students, Raphael, who explained that the driver of the vehicle could avoid the accident but said he was reckless in his driving and hit the three students who were walking by the roadside.
Oyegun: Confusion in APC, as aggrieved chieftains plot gale of litigation
He said the students embarked on the protest to draw the attention of the government on the need to erect speed breakers on the ever busy road to eradicating the rate of an accident on the road, saying "many students had lost their lives on this road and it has become an annual ritual."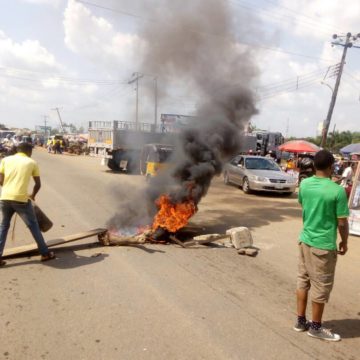 The students blocked the main road with bonfire which resulted in restriction of vehicular movement for hours in the area.
Some of the students visited the headquarters of the Ondo West local government caretaker Chairman and the Police state in Yaba area of the town, to register their grievances over the incident.
Speaking on the incident, the Public Relations Officer of the of the institution, Mrs Seto Olatuyi, confirmed the incident but said no student of the institution was involved in the accident.
ALSO READ: Hoodlums kill woman in Osogbo, 6 others die in Kogi, Ogun accidents
The State Police Public Relations Officer (PPRO), Mr Femi Joseph, who also confirmed the incident said the three victims are students of the institution.
Joseph disclosed that one of the victims lost his life while two other students who were involved in the accident are on the danger list, saying the body of the deceased has been deposited at the hospital morgue.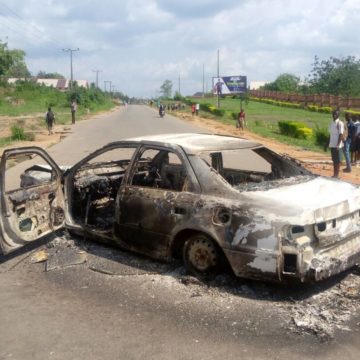 He said policemen from the command had been drafted to the scene of the incident to maintain peace and to ensure the free flow of vehicular movement in the area.
---
---