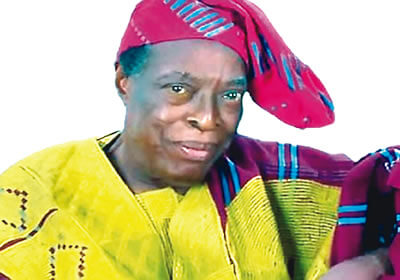 The mood was generally that of mourning when the news broke of the demise of Pa Adebayo Faleti, a senior citizen and a giant colossus in the Nigerian literary family. The cultural icon reportedly died peacefully in his home on Sunday July 23, 2017 after saying his morning prayers with his family.
Judging by his achievements and invaluable contributions to the society, there is wisdom in the admonition of many eminent Nigerians that Pa Faleti should be celebrated rather than mourned. And if indeed there is any cause for concern, it is not about his death per se but the gradual disappearance of the Yoruba culture and language exponents without any concerted effort to replace them. This is a very disturbing trend that threatens the preservation of Yoruba cultural heritage for future generations to tap into. That is not acceptable.
However, the issue is for the living to resolve and should not detract from the need to celebrate a cultural czar who had done his beat excellently well before departing.  Adebayo Faleti was a man of great erudition who demonstrated tremendous versatility in his preferred art form; the literary arts.  He was highly proficient and had impeccable practice in poetry, writing, journalism, acting, Yoruba translation, broadcasting and television production. He was one of the pioneer staff of the Western Nigeria Television (WNTV), the first of its kind in Africa, established during the premiership of the late sage, Chief Obafemi Awolowo, in the defunct Western region. A great mind with an uncommon grasp of the Yoruba language and acute knowledge of its etymological nuances, Adebayo Faleti translated the Nigerian National Anthem from English to Yoruba, translated the speeches of some Nigerian leaders from English to Yoruba and published a lexicon of official use of Yoruba names, among many other landmark achievements. Actually, he was a polyglot who communicated in English, French and Yoruba languages very fluently.
Perhaps, Pa Faleti was better known by the present generation of Nigerian youths as a celebrated actor and playwright but he had done much more than that.  At some points in his career, he was a teacher at Ife-Odan, film editor and librarian at WNTV as well as the General Manager of the Broadcasting Corporation of Oyo State (BCOS). Faleti was also a prolific writer. His literary works were recommended texts in the universities and colleges of education.  Amongst his famous publications is the book titled 'Eda Ko L'aropin' which won an award at the Festival of Arts honour in 1995. As an actor, he was reputed to have founded a very successful theatre group known as the Oyo Youth Operatic Society at age 19.  The legend subsequently acted, wrote and produced many award-winning movies. His sublime interpretation of roles and more importantly, the invaluable advice he often gave on improvement of storylines and characterisation made him a prime choice of many movie producers in the Yoruba genre who wished to add flavour and originality to the outcomes of their productions.
Born over ninety years ago in Agbo-Oye, Oyo State,to the family of Mr. Joseph Akanbi and Mrs. Durowade AyinkeFaleti,   the deceased was an alumnus of the University of Ibadan where he graduated in 1968 with a honours degree in English. He had, two years earlier, obtained a Certificate of Proficiency in French  from the University of Dakar in Senegal.  Also, in 1971, he was trained at the Radio Netherlands Training Centre in Hilversum, Holland, where he obtained a Certificate in Television Production.  It is noteworthy, however, that the literary icon's formal educational accomplishments  did not come easy; they were achieved through sheer hard work and doggedness as he had to work in a primary school for six years in order to raise funds, which his parents lacked, for his secondary school education. His, indeed, is a perfect example of how greatness can be attained through demonstration of positive virtues of vision, industry, passion for excellence and tenacity of purpose in spite of all odds.
Pa Faleti was a fire-ball and a bundle of energy who  started  to give  his all at a tender  age to the industry he loved and cherished very much and continued to do  so even when he became quite old. He was an accomplished and fulfilled person who did not only develop his talents to achieve their full potential but also helped many in the entertainment industry to do same. Indeed, Faleti was one of the rare and iconic personalities who by dint of hard work and determination achieved what is generally considered as the congruence between his plans/dreams and ultimate attainments in life.It is certain that his mark will remain indelible in the annals of the arts, literature, broadcasting and entertainment in general in Nigeria.
While we commiserate with his family and indeed Nigerians for this great loss, we join millions of Nigerians to say adieu to Pa Joseph Adebayo Mosobalaje Faleti. May his gentle soul rest in perfect peace.