A woman should choose a job that will allow her to make impact on the children —Dr Titilayo Sangoyomi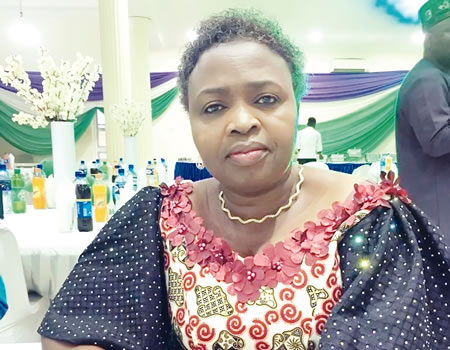 Dr Titilayo Elizabeth Sangoyomi is a lecturer, farmer, researcher and the Dean of Students' Affairs of BOWEN University, Iwo, Osun State. In this interview by TAYO GESINDE, she speaks about the two major challenges university students are facing and the need for parents to inculcate values in their children when they are in their formative years.
What informed your choice of career?
As a Science student, I wanted to be a medical doctor because of the belief that all one could make out of the sciences was to be a doctor but after a while, I paused and asked myself if I really wanted to be a doctor because I am a very compassionate person and could not stand giving people injection. Though as a medical doctor I would be able to help sick people but my disposition may not allow me to do certain procedures. I never knew women could be engineers so, I felt my next option was to study Agriculture. Today, I have my PhD in the field of Plant Pathology, which has to do with the study of plant diseases and their management. I carry out my research in that field though I interact with the other disciplines but my main focus is crop diseases and their management. Asides teaching agriculture, I also practise it. I have a garden, fish farm and poultry. It is a kind of integrated farming. Though, I have people working there, I go there to see what is  happening from time to time. I also teach my student from the on-the –spot experience of practical farming.
One of the reasons Nigeria is in the state it is now is because of our dependence on oil. What can be done to ensure that agriculture becomes a foreign exchange earner for the country?
Our overdependence on crude oil has made us to shut all doors to other avenues. For us to enjoy the diversification of our economy, agriculture is the key. For agriculture to solve the problem in its totality, value addition is the master key. It is not difficult for people to go back to farming but it will be discouraging for them to discover that what went into production was not realised after production. That is why we need the value chain. Instead of just selling tomatoes, we can convert it to tomato paste  In the course of adding value to our products, industries will come up and more people will have jobs. The people producing too will have better returns on their investments.
Another problem in Nigeria is bad leadership. What is your institution doing to ensure you raise students who will be good leaders of tomorrow?
BOWEN University has its core values. We esteem excellence, godliness, entrepreneurship, innovation and social responsibilities. These values are translated into our daily living in the school and we celebrate excellence in our students. We encourage our student to put in their best and when they do well, we celebrate them. We encourage our student leaders to be leaders in deed and not words alone. To the glory of God, our Vice-Chancellor, Proffessor Joshua Olalekan Ogunwole, is a good leader, in fact we call him coach. He is a team leader and he leads by example. We are currently undergoing rebranding and repositioning and we are seeing positive results. Things are working here. The institution is faith-based so we have zero tolerance for cultism, drug abuse, immorality and moral vices. We guide our students to obey the rules of the institution. We have chapel services where we encourage our students to make God a priority in their lives.
Why I recorded, leaked Aisha Buhari's video — Fatima, Mamman…
What are the challenges you have been facing as a career woman?
The major challenge is sharing time. Time is indispensable and limited. Every day is made up of 24 hours and we have a whole lot of things to be achieved within a given period. So, time is always a challenge but overcoming it has not been a problem, especially when one knows that prioritising is a gift from God. One needs to set her priorities, know the things that must be achieved within a given time and allot time for them. One must also try as much as possible to work within the schedule. Although, some times, things may not work as planned, if there is a plan, one is likely to achieve much. Time is actually a major challenge as a researcher, mother, wife, teacher, farmer and Christian.
How were you able to combine the home front with your career?
The Holy Bible says no one can receive anything except it is given to him by God. God has been my strength, inspiration and courage. He helped me to combine all the available opportunities in good and right proportion. As women, our primary focus is our family, nevertheless, we cannot fold our arms when it comes to our career. We are supposed to be helpmates that means that apart from rendering help in the home, we are supposed to support the family financially and in  every other area. So it has been God all through. Secondly, the Lord blessed me with a supportive husband who believes in other people achieving their goals in life. He wants to see people around him happy and fulfilled. He is always ready to give me all the necessary support in ensuring that we are able to grow together.
 You are the Dean of Students' Affairs. What does that entail?
Students' Affairs office is about students' welfare. It has to do with helping students to achieve their purpose on campus for now and in future, for life. The office is opened to students to come around and discuss their challenges and joy. We make ourselves available as the parents away from home. The office is also a bridge between the students' and the management. We convey the management decision to them and their own desires to the management. We are basically there to support and assist them in any way possible so that they can do well in their academics, be of good behaviour and have a good stay on campus.
From your daily interaction with these students, what do you think are their challenges?
They have generational challenges. We were once like them and what we faced is different from what they are facing. I call their generation a blessed generation. Their generation is the generation of social media in different forms; Twitter, Facebook, Whatsapp, Instagram, Google plus and so on. This social media is a big challenge for them because they want to keep up with the rest of the world no matter where they are and many times, they have unrestricted freedom. Without the right balance, it may not end well so we try to encourage them to be disciplined. Also, they are in an era where peer pressure is very strong. While we were growing up, the home value carried more weight than today. Today, they tend to believe their peers and follow their instructions. Many children of great people often get distracted by the influence of their peers.
Who do you think is to be blamed for these two issues you have identified. The society or parents?
All of us are to be blamed. By all of us, I mean the parents, government and the children themselves. Let me start from the government, these children look at the generation before them and saw that things are not working, especially when it comes to good living, good job and good environment. They felt the government is not thinking about them so they are not being motivated. The society too has failed these children. A Yoruba proverb says that; "enikan kan lo n bi omo, gbogbo eeyan lo n to omo." When we were growing up, if you did anything wrong, anybody in the society could correct you. Today, everybody is facing her own business, we are not showing much interest in our environment. We are not concerned about others, If a child is doing well, we need to applaud that child, even if he is not our child. And when a child does something that is wrong, we should correct him, even if he is not our child. That is where the society is to be blamed but the lion share of the blame goes to the family. The family is the beginning of every life. That is where the formative years are spent. The family should lovingly and strictly inculcate their family values into every child before they leave home. Let the family values be well inculcated in them, let them know what your family stands for. Today, the idea that mo ti jiya, omo mi o gbodo jiya is taking a toll on our children. What do we define as iya? A disciplined life is not a punishment. When you make a child live a disciplined life, it will pay off for the child in the future. Giving children  unrestricted freedom and the unavailability of parents to discipline their children is affecting the society and that is why a child will leave the home without drawing the lines on what he or she should or should not do. That is why it is usually easy for their peers to carry them away with their own faulty instructions.
The reason many women are not available to train their children is because they have to go and make ends meet. How can a woman strike a balance between her career and the home front?
A woman is a homemaker. A woman should know her purpose in life. A woman should be able to discern how she wants to live her life. When the children are younger, a woman should be available so that the foundation is laid right. That is why a woman should look into the kind of career she can pick up during the developmental stages of the children. A woman should take up a job that will allow her to make impact on the children. The Roman Catholic will say give me a child in the first six years of his life and I will give him to you for the rest of his life. This means the formative years are very important and should not be toyed with. A woman should slow down at the formative years of the children and grow with the children. Growing with them doesn't mean she should be idle or lazy, she will only weigh her options and pick the job that will allow her to be available to take care of the children. When they are older, women can choose more demanding jobs.
Advice for young people?
Be focused, believe in yourself and trust God for your future. Have a purpose for your life. Don't be goalless, nothing can hinder you. Finally, they should stay in Nigeria so we can build this nation together.