44 years on: Thunder Balogun, his skills, net-breaking 'thunderous' shot — Son, Tokunbo, tells the legendary footballer's story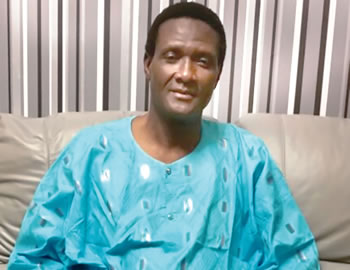 On July 30, it will be 44 years that Nigeria's legendary footballer, Teslim Thunder-Balogun, died, after becoming first Nigerian footballer to go professional and Nigeria's team leader to 1968 Olympics games. His son, Mr Tokunbo Thunder-Balogun, the 1983 Physical and Health Education graduate of University of Ife (OAU), Osun State, currently, working as director of social and activities development in London, in this interview with SEYI GESINDE, speaks on his father's legacies, dreams and aspirations for Nigerian football. Excerpts:
It is over 4 decades now that you lost your dad. Reflecting on what he would have probably achieved home and abroad as a football star if he had lived longer, how do you feel now?
Yes, it is very unfortunate that the family lost him early at the age of 45.  He didn't give any sign until early Sunday morning on July 30, 1972, when he appeared to me in form of vision in my room at Molete, Ibadan, when I was studying for my mid-term examinations. He said to me, 'Tokunbo… I am going' and I replied '…where?' and at this moment the vision disappeared from me. Other than this, it has been two other times that he appeared to me.
What he could have achieved at home was to have led the Nigerian football team to win the World Cup and to coach clubs abroad which he used to talk to me about when I was 12 years old.  He tried to win the Olympics games in 1968, when he led the national team to the Olympics games, but the players were not mentally ready for the competition. I remember that after the Olympics games in 1968, the Brazilian Football Federation came to give him a luxurious contract to coach young players in their country but my father turned them down to coach Nigerian team. Nigeria were beating Brazil 3 – 0 in the first half but they equalised before the end of the match, with the final result being a 3 – 3 draw.  I believed that the Nigerian team would have won the match convincingly however, they played the second half with low spirits. My father told his players during the half-time that, 'he has also achieved his glory and name but it is left for them to achieve theirs.' This is because the players were advocating for Eto Amechina, who have been coaching them before. My father won champions for Ibadan Lions, Railways football team, Kano Pillars, Ashanti Kotoko of Ghana and a host of other competitions. He travelled to London via Ghana in 1955 when the Nigerian government were not willing to allow him to travel abroad due to fears of losing him to another country.  His aim was to be educated as a qualified professional coach and to display his football skills abroad to let them recognise and admire Nigerian players. During his time abroad, he was respected for his prowess and skills when he played for Peterborough United F.C. and Queens Park Rangers F.C. This is why I want to remind our players of today and to emphasise that they should not forget these body-swerve dribbling skills that would help to distinguish them on the field of play. Nowadays in football competitions in the world only one or two players use body swerve dribbling techniques and pass the ball to their teammates immediately instead of continue moving with the ball to create constant threats to the opponents.
How did the family cope losing their bread winner so early at his very active age?
Well, it was very difficult times as we had to feed ourselves on top of paying our school fees. Our daddy's entitlement at the Western State Sports Council lasted for two years, to pay the school fees for eight children as the first born was 16 years and last born was 3 years old. But our mum received support from her family to sustain us for a few years before I started working and other siblings later. I gave every support to my mother and my siblings.
How will you describe him as a father?
My father was a disciplined man, jovial, kind and generous. He always says '…the money I received is not for me and my children alone but for the people.' He wanted his children to be educated as doctors, lawyers, engineers and accountants. He was not entirely convinced to make football as the only chosen career for us because during his own time there were inadequate money and incentives in the football industry, unlike nowadays where football is a big business with huge amounts of money and funding pumped into it, creating a vast number of jobs for millions of people around the globe. Still, some of us played football at premiership, state and national levels.  Many of us were well educated, and doing well in our various fields.
Why didn't any of you go into professional football?
We did not go for professional football first because of injury recurrences as well as listening to our father's advice that he did not want us to choose football as our only career. This is because they were poorly paid and he did not want us to undergo the same problems he had during his playing years, but to be educated and till to this day we abided by that wish, we even instilled that into own children too.
Were you ever told how, I mean the genesis of how he became popular with the nick name 'Thunder' Balogun?
Yes, my father confirmed this to me.  I remember late Chief Gbangbala, late Chief Okoya Thomas, late Alhaji Kassim Ekunsunmi, our uncle, Alhaji Oluwa, and late Alhaji Kadiku from our father's family used to tell me that my father got the nickname 'Thunder' from a club named Thunder X1 in Lagos Island, in the early 40s and he was known by his body swerve dribbling techniques and his thunderous shot. During his early career the club and anyone who wanted to describe him would usually say '…that young boy from Thunder X1' this is because the club was very popular in those days and they won many matches in Lagos Island more than any other clubs.  When the club was defunct, people distinguished him as a young boy that played for Thunder X1 club, thus made him to be nicknamed as 'Thunder.'
Will you say government has done enough to recognise and reward his contributions to Nigerian football?
Personally the government has done a lot for him, examples being naming a new stadium after him at the heart of Lagos State and the successive governments both state and federal had given him a lot of awards and recognition including posthumous awards and some awards from abroad also. This stadium could not have been completed without the active former governors of Lagos state, the late Admiral Mike Akhigbe, Asiwaju Bola Tinubu, and Hon. Babatunde Fashola. The stadium has been transformed into one of the continental sporting stadium arenas. Now, all I can say to the present action governor of Lagos State, Hon. Akinwunmi Ambode, that the stadium should be maintained with effective supervision. I am sure that he will transform Lagos State to a paradise of sports, culture and business.
Likewise, there should be Sporting Achievement Awards funded by individuals, organisations, States and Federal Government. This would be awarding presents, gifts of money and materials to sportsmen, sportswomen and supporter fans who have represented at state or federal level and won honours for the country. This body should specifically be one of the organisations who can compensate our sports men, women and supporter fans who won laurels for the country as the labour of our heroes past should not be in vain. The fund-raising activities should be every two or three-year, including video recordings and media exposure showing what they have achieved, with the funding published to the general public yearly for easy accountability.  We should recognise this people while they are still alive.
What legacy will you say your father left behind?
My late father had left behind a great legacy of attainment, skills and dedication to the football industry in Nigeria and the first Nigerian player to play professional football abroad. His dribbling skills and shot will never be forgotten. He opened door for new generation to showcase their talents both home and abroad.
Did you hear of those rumours about his left leg, his irresistible kicks and all that?
Yes, I remember that my father mentioned that when the Nigeria team played against Sierra Leone. During the match, their goal keeper was caught unawares by my father's shot which hit his stomach and finally pushed the ball into the net and the keeper unfortunately died on the spot. Another two occasions are when his shot broke a goal keeper's hand in England and the other when his shot tore the net in Ibadan stadium.
What of the family, your mum and other siblings, how have you been faring?
I remember that my mother, the late Alhaja Mulikat Tesilim Balogun informed me in 1983 at the age of 45 years that she would survive her illness then and live up until 60 years of age. She died in May 26th 1998. My brothers Tunde (retired), Kayode, Olamide, Ajibola, and Oluwole work for Lagos state government and Mrs Iyabo Orekoya and Abioye in the USA with their families. They are all doing well.
Nigeria slipped from its 5th position in football globally to a very backward position now, what do you think is wrong and how to right the wrongs?
I am not happy at all with the position and the situation of Nigerian football now. We need to change our football tactics and systems from foreign positional play into individual skills and elevated team spirits. Our players must be dedicated and be physically ready for competitions. We need home grown players who can display football body swerve dribbling skills for fans to respect and recognise them.  We must not allow our football fans and spectators to divert their interest to popular foreign players and clubs.
Today in the football industry, it is essential for Nigerian footballers to make their country proud through putting their best performances on the field of play in order to create a position of respect for themselves. Nowadays in the world of football, only a few footballers use body swerve techniques to enhance their performance and be distinguished on the field. Players such as Ahmed Musa, Michael Babatunde, Brown Ideye, Victor Moses, Kelechi Iheanacho, Mikel Obi, Odion Ighalo, Alex Iwobi and a host of others could be trained to use body swerve dribbling skills to create scoring chances on the field. The World Cup 2018 could be the year for Nigerian footballers to shine if they take my suggestions on board.  Nigeria needs three outstanding strikers and one of them to play behind the two front strikers as they continue to prepare for the World Cup 2018 qualifying stage in October 2016.
Players in the midfield and attacking roles should know how to run with the ball using body swerve techniques to deceive and confuse opponents as to whether they move left or right on the field. Using body swerve and dribbling skills on opponents could help the team take full control of the match, displaying fluent attractive football in an attempt to bring another new technique into the game of football as the Spanish football team did in the World Cup 2010.
To use body swerve techniques, the players must be physically and mentally fit.  It is vital they should be on their toes and lift one leg over and above the ball with their body moving towards that direction to deceive the opponent and then, use their other leg to collect the ball and move in the other direction. This technique can be applied in various forms depending on the game situation, creating scoring chances and providing constant threats to the opponent defence.
Then, your words for government and sports administrators on how to better Nigerian football, especially in discovering talents as Thunder Balogun was discovered?
I propose to take our campaign to all local authorities, schools, colleges and tertiary institutions to participate in sporting activities in all states and ensure that all sporting events especially football are attended by the state sports council or ministry representatives. This campaign will be further extended to local market places and organisations to sponsor competitions and events. By implementing these steps, it would go a long way to encourage all people to come out to watch, cheer and support our homegrown athletes with keen ambitions to become stars.
Sports Councils need to employ more coaches and trainers to be connected to schools, colleges and tertiary institutions in all states of the federation in order to coach, train players and invite them for major and national competitions, and incentives should be provided for the players. For example football players in the mid-field and attacking roles would know how to run with the ball using body swerve techniques to deceive and confuse opponents as to whether they move left or right on the field. Using body swerve and dribbling skills at all times could help teams to take full control of the field, displaying fluent attractive football.
Journalists and social media personnel should be invited to attend and write commendable reports to praise the athletes at all times in all competitive events including inter-schools sports competitions. SWAN, TV stations, magazines and organizations should be invited for discussion prior to any event. This can result in interest that extends from statewide to nationwide, as new sporting stars and talents are provided an avenue of exposure throughout the country.
However, it is imperative that the coaching, selection of the team and advisement should not be left to one Nigerian coach alone to reduce stress and indecision for the coach which prevents a one line system of administration. It was boldly stated by the president of NFF honourable Amaju Pinnick that the 'qualifying for the World Cup 2018 is not negotiable.' Therefore, the NFF should consider using the wisdom, knowledge and experiences some of ex-footballers and coaches such as Professor Felix Owolabi, Kadiri Inkana, Mutiu Adepoju, Coach Tunde Disu, Chief Segun Odegbami, Nwankwo Kanu, Salisu Yusufu, Jay-Jay Okocha, Christian Chukwu, Peter Rufai, Chief Onigbinde, Finini George, Ugbade, Sam Siasia and others to be present on the training ground and during football matches to share issues, moderate stress together and to have a say in the selection of the national team. Lastly, it is vital to be able to read the game and make correct substitutions that would create immediate impact on the field of play. As only the best committed players are good enough for the Nigerian team at all times, and should be led by home-grown Nigerian coaches.
You may believe hiring these ex-footballers and coaches would cost more, however, many may have their own jobs or businesses. Therefore, they may be hired as part-time, secondment or provide support on a voluntary basis.