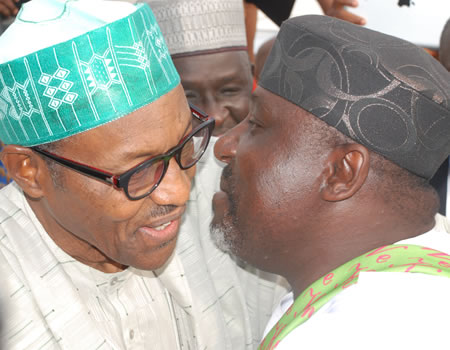 IF President Muhammadu Buhari were to contest the 2019 presidential election, he would not be given an automatic ticket, chairman of All Progressives Congress (APC) Governors Forum and Imo State governor, Rochas Okorocha, has revealed.
Speaking to State House corespondents in Abuja, after a meeting with the president, on Thursday, he said President Buhari would have to go through the constitutionally-laid down procedures to clinch the party's ticket.
While noting that Buhari was qualified to re-contest, he said the ruling party would not allow the imposition of any candidate.
"The gentleman is looking much more handsome than even before he went to hospital; he is looking stronger and so, he has every right and qualification to re-contest, there is nothing wrong at all.
ALSO READ: Buhari has compassion for Nigerian masses ―SGF
"But, we don't allow imposition of candidate. It must be democratically done. If President Buhari will lead the ship in 2019, it must be democratically done to the amazement of the whole world, the way we do our things in APC and people will be happy," he said.
Okorocha added that the president would soon embark on a tour of south-eastern states, as part of strategies to improve the relationship between the people of South East and the APC-led Federal Government.
He said the president would start the visit to states in the South East with Ebonyi, Imo and Anambra.
According to him, "the South-East before now was not measuring in APC but we have worked out strategies and modalities on how to improve relationship between the people of South East and APC government and that was top on the agenda and the need for the president to come to South East as quickly as possible, to begin to show his presence.
"Luckily, the president will be coming to Ebonyi State, very soon, and he will pass through Imo to Anambra states.
"So, covering three states within this short time will be right step in the right direction, because we have come to realise in the South-East that we are better off in APC than any other party in the Nigeria," he said.
He hoped that membership of the APC in the region would continue to increase as more politicians joined the political party.
---
---