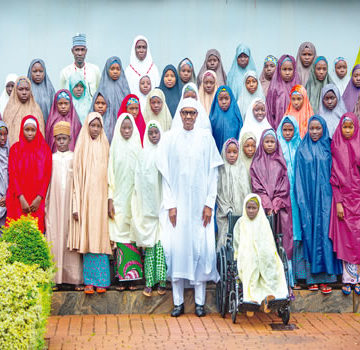 THE Federal Government has been urged to do all within its power to ensure the immediate release of Dapchi schoolgirl Leah Sharibu from the Boko Haram captivity.
 A Civil Society Organization, Catalyst for Global Peace and Social Justice Initiative,  (CPJ), also called on President Muhammadu Buhari to ensure free and fair elections come 2019.
The convener of the initiative, Abraham Aiyedogbon, made the call on Tuesday in Abuja at a news conference organized in collaboration with the Christian Association of Nigeria, (CAN).
Aiyedogbon, warned that the growing tension across the country arising from primary elections being conducted by political parties was unhelpful and dangerous.
In text of the News conference titled "Leah Sharibu shouldn't die in captivity" he said, it was bad enough that following the abduction of over 200 Chibok girls in 2014 by Boko Haram extremists and the opprobrium brought on the Jonathan administration, the Buhari administration must not allow recurrence of that incidence with the Feburary 2018 kidnapping of Dapchi girls.
He lamented that Leah Sharibu was held back by her abductors on the account of her heroic refusal to renounce her christian faith when the government negotiated the release of the Dapchi girls.
The convener said it inexcusable that some eight Months after her abduction, the Federal government has not been able to secure Leah Sharibu's release.
"A few days ago, the Boko Haram insurgents threatened to kill Leah Sharibu the same way a health worker with the International committee of the red Cross,was kidnapped last March and killed".
He said, President Buhari should muster all the forces at his disposal to ensure that Boko Haram insurgents do not succeed in carrying out its threat on sharibu and two other abductees – Hauwa Liman and Alice Ngaddah- lined up for execution. "Leah Sharibu must not be killed"
"We urge the government to secure the release of the remaining Chibok girls, over 100 of them still in Boko Haram captivity.
"Government should explore the same channel it used in securing the freedom of those already released. There is a need to bring a closure on what the situation of things are with our missings girls "the endless silence on the fate of the remaining Chibok Girls is agonising".
"We call on security agencies to up their game and bring to book purveyors of violence: kidnappers, ritualists, insurgents and terrorists, the general insecurity in the land is galling and should be immediately arrested.
Abraham said the government at all levels should do something about the worsening poverty in the country. The global reports states that Nigeria is now the poverty capital of the world urgent measures should be taken to change the narratives.
"The bloodshed in the country has gone on for too long. Before politicians carry the people under a blanket of electoral euphoria, the president should do all within his power to heal the land," He said.