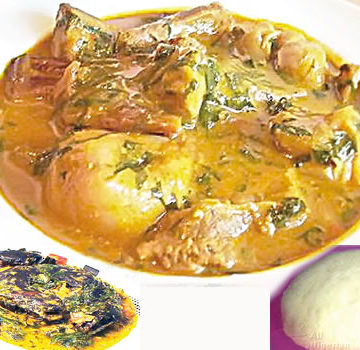 Ofe Owerri is one out of the many nutritious foods that is mostly consumed in Igboland. The soup has medical and nutritive value. It is an ideal food for children and adolescents. Ololade Alabi writes about this delicacy and the method of preparing it.
GOOD and nutritious foods make us healthy and prevent many diseases. There are many nutritious foods that are eaten all over Iboland. Ofe Owerri is one of these nutritious foods. This soup  is a unique dish because of its flavour, method of preparation, nutritive content and medicinal value. It is an ideal food for both children and adolescents, for physical growth and development. Pregnant women and nursing mothers can also benefit from this dish. Convalescing patients can recover quickly from illness and also build a strong immune system against diseases and infections when they include Ofe Owerri in their diet. The soup is usually eaten with pounded yam. Pounded yam too is rich in carbohydrate and is a good source of energy.
Ofe Owerri soup preparation
Wash the beef and season with onion, one maggi cube and salt
Allow to steam till juice dries up
Add 2 cups of water, snail and stockfish, leave to boil till the stockfish is soft and shred the ugu leaves
Wash the fish thoroughly
Add the fish and Isam to the meat pot and add the remaining water
Peel and wash the coco yam
Cut each into two pieces and continue cooking until it is cooked.
Remove the cooked coco yam and pound and return to the pot as a thickener
Add maggi, crayfish, pepper and palm oil
Stir thoroughly and reduce the heat.
Add the shredded ugu and ukazi leaves.
Stir, and add allow to cook for about 6 minutes.
Stir and salt to taste
Remove from the burner and serve with pounded yam
POUNDED YAM PREPARATION
Cut, peel and wash the yam
Put the yam in a pot, and add enough water and place the pot on your cooker
Boil until the yam is cooked
Draw off water
Pound the yam in a mortar or pounding machine until it is free from Lumps and slightly elastic
Mound and serve with Ofe Owerri.