Young, bold and focused. These epithets sit well on these rising stars who in the last three to four months have brought glory and pride to their families and the nation.
From entrepreneurial inventiveness to precocity in arts, to sheer academic genius, these proud children of the most populous black nation on earth have kept their focus on making positive impact on the nation to counter-balance the negative stories of many of their compatriots who are determined to bring it to disrepute.
Chidi Nwaogu
At 29, Chidi Nwaogu is already a serial internet entrepreneur. Now he has topped it up by winning the first prize in the 'Entrepreneurship' category at the 2019 Africa 35.35 Awards.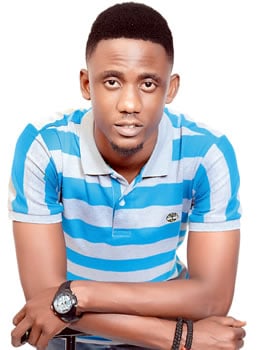 The award seeks to recognize 35 people under 35 from Africa or the African diaspora who have made outstanding achievements in their communities.
He joins other laureates of the award like Halimatou Gadji of Senegal, Elijah Amoo Addo of Ghana, Aline Savadogo of Burkina Faso, Ansoumane Mory Mara for Guinea/Morocco, Daraja Haidara of Mali, Fatoumata Coulibaly Koné of Cote d'Ivoire/Burkina Faso, Modou Njie of Gambia, among others.
According to techeconomy.ng, Nwaogu is one of the 35 young people from 16 African countries that made the list of laureates of the awards.
UPDATE: Atiku Abubakar writes Nigerians, solicits for more support
Formerly known as the Francophone 35.35 Youth Awards, which was later expanded to cover both French and English-speaking Africa, the awards reward young people on the continent and its diaspora aged 18 to 35 who have achieved exceptionally in the course of the year.
Selected out of 350 nominees living in 49 countries, Chidi Nwaogu and other laureates will receive their awards during a ceremony billed for the 25th of November 2019 in Accra, Ghana.
Nwaogu is the co-founder and CEO of Publiseer, a digital publisher for African Creatives, described by Konbini as "one of the largest digital publishers in Africa", identified by IFC as one of the startups "that could speed up innovation in Africa" and listed twice by ModernGhana as one of the "10 African Innovations" in 2019.
This year, Nwaogu has received several honours and awards, which include winner of the Young Leaders Award 2019, winner of The Bizz Business Excellence Award 2019, winner of Startup World Cup Nigeria Regionals 2019, and winner of the ITU Innovation Challenges 2019.
Nwaogu started his entrepreneurial journey when he was 16 with the creation of 9ja Boi Interactive, a video game development company, after which he has co-founded, grown and sold two Internet companies, including LAGbook, a social network that garnered over one million registered users within three years.
Kareem Waris Olamilekan
Eleven-year-old Nigerian hyperrealism artist, Kareem Waris Olamilekan, is definitely on his way up and running with the boys. He has defeated 2,723 others to win a top award in Taiwan, the Chou Ta-Kuan Cultural and Educational Foundation's '22nd Fervent Global Love of Lives Award'.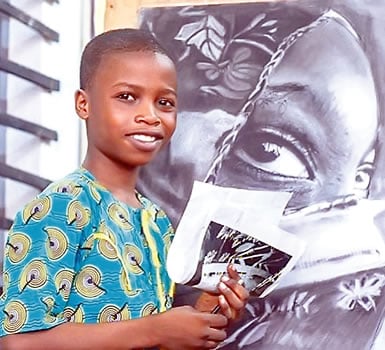 The disclosure was made by no less a personality than the representative of Taiwan in Nigeria, Ambassador Vincent Yang.
Kareem is billed to attend charity events in Taipei from September 20th to 28th, and will have the opportunity to meet the Taiwanese president.
At just 11 years, and in Junior Secondary
School 1 (JSS1), this young superstar is gaining global fame for his hyperrealism portraits of friends, neighbours, and family members. Working mostly with pencil but occasionally with pastels, paints, and ballpoint pen, his portraits are lively, expressive, and touching depictions of his community.
Dubbed 'Africa's youngest professional artist', Kareem rose to international fame last year (2018) after he sketched, in less than 10 minutes, a perfect portrait of French President Emmanuel Macron live on stage during the cultural event 'A Celebration of African Culture' in Lagos.
Needless to say that Kareem has been 'adopted' by a Nigerian bank, and is now a proud owner of a modern apartment in Lagos, to which he and his proud family have since moved.
Kareem has been drawing since the age of six and sold his first piece at just eight years old. He cites Nigerian hyperrealism artist, Arinze Stanley Egbengwu, as his inspiration.
At 11 years, Kareem has appeared on the British Broadcasting Corporation Africa and a numerous international publications over the last one year.
Tobechukwu Philips
Nigerian teenager, Tobechukwu Philips, has set a record by becoming the first black valedictorian in Alvin High School in its 125-year history.
'Tobi' as she is fondly called, graduated at the top of her class with a 6.9 cumulative GPA.
According to an online platform called Because Of Them We Can, the school currently has 86 black students out of approximately 2,800 students.
She was said to have scored straight 'A's throughout her four years in school, in addition to her other interests.
This exceptional teenager is also a Sunday school teacher, a member of the Rho Kappa Honor Society, president of the National Honor Society, an AP ambassador, and a decorated volleyball and track athlete.
Her track coach, Jennifer McGraw, describes her as "an excellent student from a loving family."
Explaining how she was able to get the excellent grades and still sustain the rest of her interests, Tobechukwu said, "maintaining the highest GPA in my class is a difficult task. It truly takes time management but more importantly acknowledging what you do it for. I know that I am no longer just representing myself."
She also has some advice to black students who want to excel in school: "My biggest advice to other scholars of colour is to truly adopt the mindset of Rosa Parks. Do not conform to the stereotypes that have held us under thumbs for so long. Do not be discouraged when someone speaks out against you; simply allow what they say to fuel your fire.
"But more than anything, do not remain tight-lipped. Stand up for what you believe in and take it upon yourself to be the change you've always wanted. Say 'No' to the ways of the world and stick out."
She has received the Full-Ride Forty Acre Scholarship to attend the Nursing School at the University of Texas in Austin. Out of 4,000 applicants, only 16, including Phillips, were chosen for this prestigious scholarship.