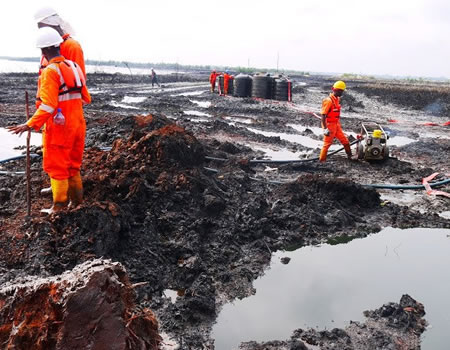 THE Senate, on Tuesday, mandated its committee on environment to investigate the implementation of the celebrated Ogoni cleanup exercise.
In June, last year, the Federal Government launched the Ogoni cleanup project with initial cost price of $1 billion.
The same committee will equally investigate and assess the progress of the Great Green Wall programme initiated to control desertification in some parts of the North.
The decision to institute the probe was arrived at, following the adoption of a motion by Senator Oluremi Tinubu, tagged "World Environment Day."
In the motion, the senator expressed worry that in spite of the launch of the Ogoni cleanup campaign, it did not appear that work had commenced in the area.
Tinubu, who is also the chairman of Senate Committee on Environment, noted that June 5 is World Environment Day, set aside to create awareness for environmental issues and protection of the environment, adding that the theme for this year's celebration, "Connecting People to Nature," was picked to celebrate nature's beauty and man's dependence on nature for his well-being.
She insisted that in the light of the country's environmental issues, such as gully erosion in East, desertification in the North and large scale environmental degradation in the South-South, alongside illegal mining, uncontrolled and excavation of laterites, there was the need for the country to be proactive in addressing the issues.
She expressed concern that unmitigated environmental issues had widespread effects on the economy, health and social well-being of the people.
Senator Tinubu also expressed concern that women and children were the most vulnerable groups and tended to suffer more from the effects of environmental issues, while lamenting that school curriculum had failed to teach children at a young age, the impact of their actions on the environment.
Tinubu also expressed worry on the absence of clear framework and institutional actions to counter climate change and its effects and the implementation of the Paris Agreement (COP21) and COP 22 in the light of the recently announced withdrawal of the United States.
She called on government at all levels to create a framework for the realisation of the protection of environment and urged the Ministry of Environment to create awareness and sensitise Nigerians to environmental issues, with a view to safeguarding the health and well-being of the citizenry.
The lawmaker said to accelerate the passage of the Erosion Prevention and Control Bill 2017 and other environment protection bills, there was the need "to mandate the Ministry of Environment and relevant agencies to create the framework to stop and prevent further deforestation and degradation and for replacement of lost vegetative cover, to counter climate change and its effects."
In closing the discussion, Senate President, Dr Bukola Saraki, asked the committee to look closely at the issue of Ogoni cleanup as well as the Great Green Wall Project and report back to the Senate.