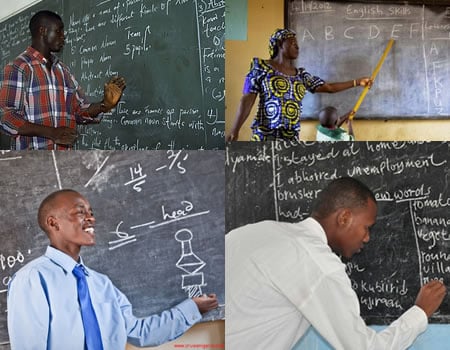 Rivers on Thursday, staged a protest march to express their disapproval of plans by the state Government to return the management of primary schools to the local government authorities.
The State Governor, Nyesom Wike in a recent radio programme in Port Harcourt hinted on plans to return the management of primary school to the local government councils as provided for by the constitution.
But the teachers under the aegis of the Nigeria Union of Teachers NUT staged a protest to the Rivers State House of Assembly Complex to register their disapproval of the governor's plan,
When they could not receive any attention from the House of Assembly after waiting for several hours the protesters took their protest to government house where a senior security officer who refused to give his name addressed them but just informing of the absence of the governor or any official who could address their grievances.
The officer advised them to go and return another day when officials of the government house will be around to address them.
Addressing the journalists thereafter, the State Chairman of the NUT, Lucky Nkpogene who lead the protest clarified  that NUT was not against local government autonomy, but added that if it must happen, primary school management must be run by the state government.
Nkpogene noted that primary education in particular constituted the foundation framework of the entire education structure of a nation which makes it more important for the state government to run the affairs of the primary schools.
He warned that anything that does not ensured proper funding of primary school education could affect the foundation of the young people of the state.
The NUT state chairman also observed that primary school teachers are being owned salaries months in number of states due to inability of the local government councils to provide the funds needed for the payment of the salaries.
He stated; "I wish to state here that the NUT is not totally against Local Government autonomy but the union is concerned that about the likelihood of scrapping the state joint Local Government Account. This will take the primary education back to the dark pre-1994 era, it is
our believe that state government have a duty to safeguard the right of every child to basic education.
It is against this backdrop that we wish to reaffirm our position and call that the payment of salaries of primary school teachers be taken over by state government in order to prevent the education sub-sector from imminent collapse."