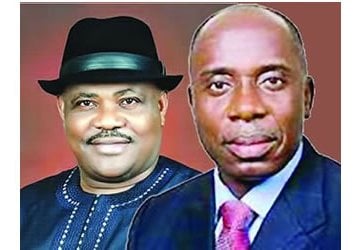 THE atmosphere of Rivers State is charged, no thanks to hot exchange of words between the state's Peoples Democratic Party (PDP) and All Progressives Congress (APC) supporters over the allegation by the State Governor, Nyesom Wike that the Judith Amaechi, wife of immediate past Governor of Rivers State, Rotimi Amaechi was forcefully collecting between N2 million to N3 million for her pet project Empowerment Support Initiative (ESI).
Supporters of former Governor Amaechi, under the aegis of Former Rivers Commissioners and Local Government Council Chairmen came out with a statement on Thursday, in Port Harcourt debunking Governor Wike's allegation, describing it as false while the PDP through its state spokesman, Samuel Nwanosike insisted that Judith Amaechi actually collected such monies adding that Amaechi's wife also coaxed members of Rivers State House of Assembly to contribute certain amount of money  out of their constituency project fund in financing  her pet project, ESI, during the tenure of her husband as governor.
In a nine-point statement signed by Ojukaye Flag Amakiri, former Chairman of Asari Toru Local Government, the former commissioners and local government chairmen noted that realising the magnitude and gravity of this allegation, they "deemed it necessary to make this public clarification in the interest of our teeming supporters and Rivers people."
They added, among other things that Governor Wike since assuming office "appears to have a major agendum, which is to tarnish the sterling reputation of former Governor Amaechi, his erstwhile benefactor. He is bereft of ideas and unprepared for the task of governing a heterogeneous state like Rivers."
They said that Wike, while serving as the Chief of Staff to Governor Amaechi interfaced regularly with council chairmen, stressing that with this rare privilege and his avarice plus his corrupt tendencies, elected to commit a lot of fraudulent and sharp practices including massive looting and various degree of financial extortion on the council chairmen and commissioners who felt hapless due to his perceived closeness to the governor as the chief of staff.
"On several occasions, Wike hiding under the subterfuge of his office as intermediary between the then governor and other elected or appointed public officials made financial demands and extorted money from council chairmen including arm twisting them to award contracts to him," they claimed.
But in a swift reaction the PDP, through Samuel Nwanosike retorted that there were evidences to show that Governor Wike's allegation was true.
He said some of the council chairmen and Assembly members that refused to do her bidding were denied the opportunity of being re-elected to their former position.
He said; "The evidence is very glaring and it is not hidden. The wife of the Minister of Transportation coaxed and intimidated council officials to pay certain amount of money to her pet project, ESI. Members of the State House of Assembly were forced to divert their constituency projects into building of schools in her ESI.
"So many of them complied and those that did not comply were denied a return ticket to their former position. Some of the council chairmen protested. Late Precious Oforji who was the Council Chairman of Oyigbo Local Government Area led a protest against such illegal levy. The Chairman of Obio Akpor Local Government Area, Timothy Nsirim refused to contribute such money and he was removed from office.
"Some women that contributed money under her Vehicle empowerment program are still crying today because the money they contributed to the scheme were not given back to them."
Governor Wike had in a live television program monitored in Port Harcourt accused Judith Amaechi of compelling some government officials to pay money into her ESI project.