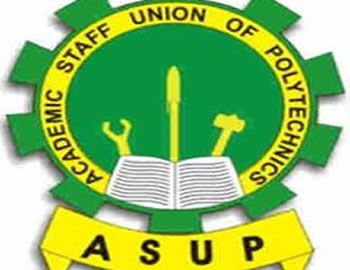 The Polytechnic lecturers will begin another round of indefinite strike across the federation from next week Monday, the Academic Staff Union of Polytechnic (ASUP), declared in Abuja on Monday.
ASUP made the declaration as it warned that the Polytechnic education is seriously on the verge of collapse and needs emergency attention it deserves.
Addressing a press conference on the outcome of the Union's National Executive Council (NEC) meeting, held in Abuja, ASUP President, Comrade Usman Dutse, said the polytechnic sector now needs over N8billion to be resuscitated.
He explained that the required money, which was put at N6.5billion in 2014 based on the government NEEDS Assessment survey report, had increased to over N8 billion due to the prevailing economic realities in the country.
He said the strike would be indefinite and comprehensive as the emergency NEC of the union had resolved to "commence an indefinite and comprehensive strike action effective 13th November, 2017."
He warned that the action shall be sustained and would not be called off or suspended, until their demands are met
Comrade Dutse gave the crucial issues in contention to include: Non-implementation of the NEEDS Assessment Report; non-passage of the Amendment Bill of the Polytechnics Act; the sorry state of state government owned institutions; shortfalls in personnel releases and withdrawal of allowances; non-release of CONTISS 15 migration arrears; infractions in the appointment of rectors; and continued victimisation of union officers.
The ASUP president said: "In view of the above, our union rising from this emergency meeting hereby resolved to commence an indefinite and comprehensive strike action effective 13th November, 2017.
"This action shall be sustained until our demands are met or an implementable memorandum of action is agreed upon by our union and relevant agencies of government.
"We therefore call on well meaning Nigerians and indeed the public to prevail on the government to do the needful and avoid this imminent shutdown of the sector on an indefinite basis."
He added: "It is worthy to note that a lot of these issues constitute violations of the agreement signed between our union and the government in 2010. This is in tandem with the now well documented penchant of government to renege on agreements.
"Recently efforts to address these issues led to the convening, on the 24th of October 2017, of a conciliatory meeting by the Federal Ministry of Labour in Abuja. Curiously, the ministry in eye of the storm (The Federal Ministry of Education) was so poorly represented that no memorandum of action was agreed upon.
"This clearly showed the level of disdain and disrespect with which issues of the polytechnic sector are being handled by relevant agencies of government."