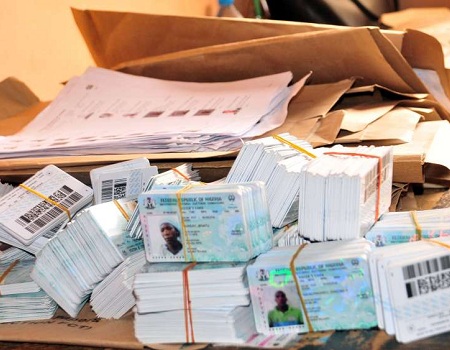 A group, Community Outreach Advocacy, Capacity Building and Health (COACH) has decried the inability of more residents of Patigi, Patigi Local Government Area of Kwara State to register for Permanent Voters Card (PVC) in the ongoing continuous voter registration exercise by the Independent National Electoral Commission (INEC).
The community-based group alleged that enthusiastic registrants had to part with N100 before they can be able to register in the exercise.
Speaking during an advocacy visit of her group to Pategi community to sensitize people on the need for them to obtain their PVCs, founder of COACH, Aisha Ahman Patigi, Kwara State, said that the potential registrants were paying the money to enable those in charge buy diesel to power generating a set.
Ahman-Pategi, who regretted a situation where people in the community were being made to pay a certain fee before they could perform their civic responsibility, said that she had met with relevant stakeholders on the need to redress the unacceptable situation.
However, the new Resident Electoral Commissioner of the Independent National Electoral Commission (INEC), Alhaji Attahiru Madami, has promised to investigate the allegations among others, towards solving them, saying that the body had mapped out a strategy to improve on registration of eligible voters and collection of PVC.
The founder of the group also faulted claim that Kwara North senatorial district has low population, saying that the population of Patigi alone was more 500,000.
"The reason why we came up with this was when I came back from outside the country to register for my PVC. When I got here, what I saw really baffled me. Actually, it was quite disturbing, because the INEC office was not what I expected. People were lined up and they were paying N100 to register. Apparently, they have to pay N100 for diesel. That is disturbing.
"This is not right. Everybody in Nigeria has a right to register, just the way it is in Abuja where you don't have to pay N100, it should be the same way in every community in Nigeria.
"So, when I went back to Abuja, I spoke to a few of our leaders in APC essentially and the nation. I said this is what is going on. This is what I found, and obviously, this is the time for me to come back home and see how I can impact, especially if I'm going to start, I need to start with my community because, for a long time, we haven't been here.
"But because most of us have not paid much (attention) to politics or leadership and all that, the only person we have is Aliyu Ahman Pategi and one person can't make that much impact, and everybody is representing their own people. I started to realize there is this thing going about the Kwara North wanting the gubernatorial ticket this time around because it is being almost 20 years we haven't have that.
"One of the arguments is people from Kwara North are not that many. So, they are not making that much impact even when it comes to the election. I said that is not true. Because even just Patigi alone, they said we are just 250,000. That is not possible. I know the population of Patigi is even more 500,000. I started doing my research and I discovered that a lot of people don't actually register and a lot of people don't even vote, and also a lot of people that even registered don't even go back to take their PVC.
ALSO READ: Osun guber: Presidency intervenes as S/W APC blocs engage in supremacy battle
"They said what is the point, they go out, they vote, they have to even pay N100 to register and at the end of it all, they are voices are not counting. And that is why I started community outreach so that we would make sure that this time their voices are heard and the impact actually is felt, especially in Kwara North as a whole.
"What disturbed me as well is when Iooked at all the numbers of 2015 elections, what I discovered was the total vote for Kwara was about 400, and in writing, they said the population of Kwara is 2.3million. So, you are talking about less than 20 percent of the population. If you break it down, how many are kids really at the end of it all. We should definitely have more than at least 70 percent that is adults at this point, and this was 2015. Obviously, the population has increased now.
"So, I think that we need to understand that we need to get people to register but at the same time, people that actually take offices, they get overwhelmed. We understand that. If you want people to vote for you, you have to make sure that they feel your impact, because that is the responsibility you have taken. And as a leader, you can't do it all by yourself, you need to set up committees and delegate responsibilities and follow up also because that is the wisdom behind leadership. A leader can't do it all. President Buhari can't do it all but he has to make sure that the people in his cabinet can be held responsible for anything that happens because if the country does well, he does well. If the country doesn't, then at the end, it falls back to him."