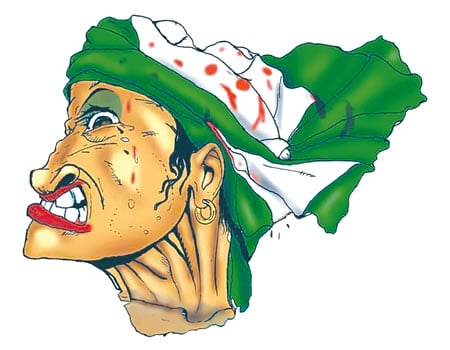 Afailed state is one in which the state can no longer govern; where all the institutions and structures of governance have collapsed, and the polity has regressed dramatically into a vast ungoverned space. In the absence of an overarching authority to administer order, everyone ends up doing what is right in their own eyes, in a manner akin to the biblical narrative of that tortuous period 'when there was no king in Israel.' The physical manifestation of state failure is evident in what Somalia, Yemen, and to a large extent Afghanistan and Libya, have become. This piece is not an interrogation of the role of one recurring agency, and its single-minded commitment to regime change, in how each and everyone of those countries atrophied and changed status to what they are today – standing embarrassment to human civilization. Rather, I worry that so soon, another country, another African country, is again treading this same path that Somalia trod.
In June 2015, standing on the pedestal of President Muhammadu Buhari's inauguration speech, I called attention to some danger signals in the way the new president set at his job, as revealed in that carefully, but ominously crafted speech. 'Of Inauguration Speech and Ominous Signs,' I titled the piece. Again, convinced that the direction in which the country was moving way into Buhari's presidency left much to be desired, I suggested some concrete steps that I thought the president could take to redirect our ship of state, our Titanic, from the treacherous iceberg, for which it was headed. This was put across in a widely-published newspaper article July 2016, titled 'Buhari and an Agenda for Real Change.' I am not sure that much was done in that regard. Regrettably now, the chicken is manifestly coming home to roost.
Let's examine the evidence in its more dramatic form. Mindless killings going on apace in and around the entire Benue Valley, and elsewhere across the country. Indeed, this piece is a product of outrage that one once again felt reading reports that yet another set of scores of innocent people had been put to death, this time in Birnin Gwari, Kaduna State,on Saturday 5th of May! Armed robber staking control of whole neighborhoods for hours, with no form of resistance whatsoever, as we saw in Offa. Kidnappers having a field day all across the country. Hundreds of school girls being hauled into captivity by terrorists unhindered, as we saw in Dapchi, suggesting that we had all not learnt anything from the horrific Chibok experience. Hoodlums storming the Senate chamber to snatch the mace of authority, in one institution that is the very personification of democracy, as the security establishment stood akimbo. Inter-service rivalry among security operatives playing out as open confrontation on the streets of the federal capital. Youths of the country getting derided as a do-nothing generation by a President who should be mobilizing this latent dynamo of a people for national rebirth. Universities reeling in the throes of gargantuan crises of essence, morality, and relevance.
An elected president wantonly assailing the  constitution by approving commitment of a humongous $496 million dollars, without legislative appropriation; and cherry-picking which court orders to obey, which ones to disregard. Officiating ministers of God being mowed down in cold blood, in their cassock, without any consequence thereto. Elected senators being harried and humiliated for no justifiable reason, other than what seems to be their outspokenness. Accusations and counter accusations of monumental corruption flying around between what I call the two sides of a counterfeit coin – APC and PDP. Improvised explosive devices (IED)incessantly going off and killing innocent people, including in places of worship, and government-run internally displaced people (IDP) camps. The ruling party's attempt at holding election to fill minor party positions going down in a manner that conveys the practical meaning of the word, pandemonium. Hunger and anger stalking the land in an unprecedented scale. Official spokespersons of state, those who should ordinarily be marketers of government policies, disparaging any scintilla of disaffection on the part of citizens, taking joy in deriding and mocking the latter as 'wailers and haters,'putting down their acts as yet another indication of 'corruption fighting back.'
A horde of ebullient folks, many without much in policy groundwork or institutional experience to call upon, seeking the Presidency, hoping to take advantage of the anger so palpable in the land – all in the spirit of 'if Buhari, why not me?'
Elsewhere, I had argued, that a state that is inexorably on the path of failure, can indeed be put down as a failed state. Isn't Nigeria, in the foregoing circumstances, becoming a vast ungoverned space? Isn't this textbook example of a fragile state now atrophying most rapidly? Isn't the spectre of state failure starring Nigerians in the face? It is no doubt convenient to walk away in comfort, in the impression that all one is raising here is but an unnecessary alarm. Many are indeed wont to argue, for sundry reasons and motivations, that it is not just that things are not as bad as they are being made to sound, but that one is indeed manifesting the so-called 'wailers'' tendency at emphasizing the downside, when it should have been a celebration of that which is taking place on the positive side of the balance sheet.
Others would readily cite figures of growing foreign reserve, hike in tax revenue, 'stable lending rates,' , etc. – conveniently pushing to the background the age long and conventional wisdom that the welfare and security of the citizenry is indeed the whole purpose of government. Even at that, what no one can deny are,first, that the litany of acts cited above not only exist, they have indeed defined the Buhari presidency. Secondly it is trite that the present government is yet to demonstrate any credible evidence of its desires, or better still,capacity to deal with, and constructively manage the situation. Neither of these inferences provides any basis for comfort.  Now, elections are supposed to be around the corner. A graduate student of mine just completed a thesis wherein he noted that Ghana has gotten itself to a situation in which elections are seen now as festival, a basis for celebration; while in Nigeria, to all intents and purposes, they still equate war, coming with all the attendant trepidations. In the upcoming 2019 'war''by other means,' borrowing from von Clausewitz, I am persuaded that there are more than enough reasons to worry.
I stand to be corrected, but my sense is that 2019 is going to be the most divisive election in the history of Nigeria. How do I mean? At a recent high profile colloquium, I expressed concern about the palpable 'win-at-all-cost,' and 'no-matter-what' sense that is already tick in the air.My hunch is that President Buhari and his team are determined to win the 2019 election, and without much regard to whatever the Nigerian electorate chooses to do, or not do.
(To be continued).
Professor Mimiko, mni, is of the Department of Political Science, Obafemi Awolowo University, Ile-Ife.