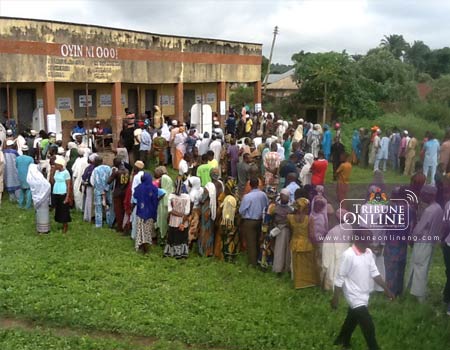 The Osun West bye-election to fill the vacant seat following the death of Senator Isiaka Adeleke on the 23rd of April, 2017 kicked off on a good note as eligible voters trooped out to participate in the exercise.
In some of the communities visited by Tribune Online to monitor the process, there was a sizable crowd of people, on the queue, waiting to be accredited before casting their votes.
Voting materials from the Independent National Electoral Commission (INEC) arrived at almost all the polling units and centres early enough, thus making easier for the process to commence in good time.
When our correspondent visited Awo, a community in Egbedore local government area of the state around 8.25am, many of the voters were being accredited as corps member, who is the supervisor for the polling unit1, Miss Oyeyode Sherifat said, "The process is okay for now. We have just started and you can see".
She said "the card reader, being used at the polling was working perfectly for now. And many people are waiting on the queue to be accredited and cast their votes".
At Ede, the country home of the Peoples' Democratic Party (PDP) candidate, Ademola Nurudeen Adeleke, the atmosphere was peaceful and many residents thronged polling units and centres to participate in the exercise.
Adeleke, who cast his vote around 8.34am at Ward 2, Unit 9, Saagba Abogunde compound, Ede North local government council, he urged the people to be law abiding and cast their votes for the PDP to liberate Osun State.
When our correspondent got to Odeomu, in Ayedaade local government, many voters were seen, casting their votes.
Speaking to journalists at polling unit 16, Ward 5, the INEC presiding officer Ms Precious Agbor said the electoral process was ongoing without any hitch, adding that "we have not recorded any incident so far".
The party agent for APC, Mr Isa Jimoh and his PDP counterMohammed Abdulazeez also attested to the submission of Agbor that the electoral process had been very smooth and successful.
In a brief chat with newsmen, the former Minister for Youth Development, Senator Olasunkanmi Akinlabi, who is an indigene of Odeomu said tasked the INEC to sustain the standard and credibility of electoral institution bequeathed to the commission by the immediate past administration of former President Goodluck Jonathan.