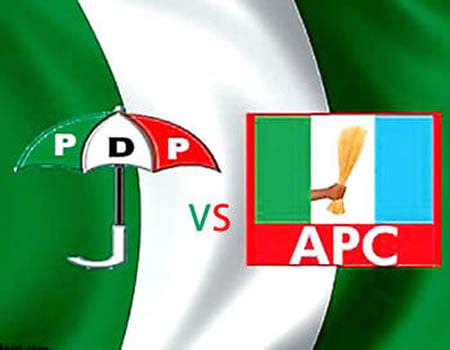 THE Peoples Democratic Party (PDP), on Wednesday, alleged that the Independent National Electoral Commission (INEC) in Osun state had concluded plans to release unclaimed Permanent Voter Cards (PVCs) to the ruling All Progressives Congress (APC).
In a statement issued by the deputy national publicity secretary of the PDP, Prince Diran Odeyemi, which was forwarded to the TribuneOnline in Osogbo, the party maintained that some unnamed influential members of the APC were allegedly colluding with few INEC staff on discreet move to release unclaimed PVCs to the ruling party.
While contending that APC was fielding an unpopular governorship candidate, Alhaji Gboyega Isiaka Oyetola, hence its growing desperation to foist him on Osun people through every means possible, except ballot, the party averred that "activities of some top shots in INEC are being closely monitored since intelligence at the disposal of PDP confirmed unholy alliances between APC and some bigwigs within the electoral body in the state."
The statement reads in parts, "it has come to our attention that some bad eggs in the INEC setup are planning to release unclaimed PVCs to APC ahead of September 22governorship election in the state. Since 'see and buy' that APC used in Ekiti may not work in Osun, the party is looking for other means, except free and fair election, to win the state for its unpopular candidate.
ALSO READ: Bauchi lawmaker raises alarm over alleged threat to her life
"The party is not limiting its rigging plans to this alone, its agents have also been going around the state, targeting especially our stronghold buying PVCs from the unsuspecting voters. We urge security agents to monitor more closely activities of senior INEC officials as well as those of APC bigwigs. They are also going around 'harvesting' PVCs of the unsuspecting voters in exchange for money.
However, when contacted, the Resident Electoral Commissioner (REC), Mr Olusegun Agbaje described the allegation of the PDP as untrue, baseless and unfounded, saying "I am not aware of such development."
Agbaje, who spoke during a telephone chat with our correspondent said "I don't know of such plan, you were at the meeting where I told the leaders of political parties that if they see anything going wrong, they should let me know. Nobody has contacted me. I am not aware and currently, I am in a meeting with the Electoral Officers (EOs)."
He continued, "I am not aware or privy to it and it is not true. I believe that if the PDP heard such a thing, they should clear from us because we have already given them a blanket arrangement that if they see anything that is going wrong, they should let us know. It is not true and such a thing is not happening in INEC, Osun State."
"The rule in INEC is that before we do the election, all unclaimed PVCs a week to the date of the election would be sent back to the INEC headquarters here at the state level. What we are doing now is a meeting on the last batch of PVCs we are getting today from Abuja. From the local government level, the PVCs would go toward level so that those who did transfers can get their PVCs," Agbaje remarked.