Omisore laments bad roads network in Osun, promises reconstruction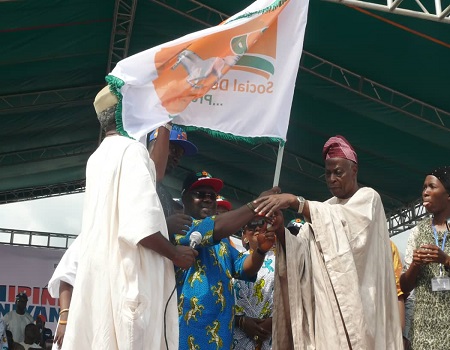 SENATOR Iyiola Omisore, the governorship candidate of the Social Democratic Party (SDP) in Osun State, has lamented the bad roads network in the state, just as he promised their repairs and construction of new ones to bring relief to motorists and other road users in the state.
He gave this promise during his campaign tour of Ile-Ogbo and Bode-Osi, headquarters of Ayediire and Ola Oluwa local governments, where he assured the people of his commitment to the restoration of the lost glory of Osun State, if his party, SDP is voted into power on September 22.
Omisore, who chided the ruling All Progressives Congress (APC) government of Governor Rauf Aregbesola for "maladministering the state," lauded Osun people for buying into the "SDP restoration Agenda."
He, thereby, promised to fulfil his campaign promises, and charged the people to be steadfast and vote SDP into power, warning that, "a mistake of one day of vote for a wrong party can lead to another eight years of suffering."
ALSO READ: My boobs are God's gift, I flaunt them —Actress Seun Omojola opens up
Omisore expressed confidence in the people's support, and to further open up spaces for Osun's development, he promised to construct the Ile-Ogbo-Iwo; Iwo-Ejigbo, Iwo-Osogbo roads when elected as the governor of the state.
He, however, urged the electorate in the local governments and others in their various localities to jealously guard their votes, while also warning the independent National Electoral Commission (INEC) and other election umpires "not to work against the people's will."
Earlier accompanied by the national chairman of SDP, Chief Olu Falae, his running mate, Alhaji Azeez Yemi Lawal, and some party leaders, Omisore paid a condolence visit to the palace of the Ogunsua of Modakeke, on the recent demise of Oba Francis Adedoyin, the traditional ruler of the town.
The SDP campaign train also visited Gaa Adamu a predominantly Fulani community in Ola Oluwa Local Government, where their leader who narrated how they've been neglected by successive governments in the state, requested for a maternity and blocks of classrooms from the SDP leaders.
Omisore responding, promised the Fulani community of his personal and party's commitment to their well being, while he also admonished them to vote for SDP so succour can come to them and others in Osun State.