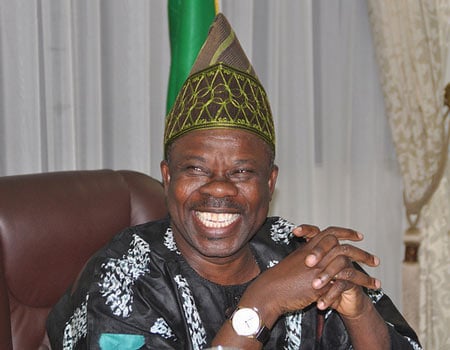 IN anticipation of the likely traffic gridlock along Abeokuta-Sagamu Expressway, the Ogun State Government has concluded arrangement to construct two flyovers at Kobape and Siun on the highway.
This was disclosed by the State Governor, Senator Ibikunle Amosun, during a 'Breakfast Meeting with the Private Sector Executives', on Thursday, in Abeokuta.
Amosun said that the construction became imperative considering the number of industries that would be having their business premises along the axis.
At the meeting organised by the Ministry of Commerce and Industry, Amosun added that his administration is embarking on massive infrastructure to absorb the pressure of industrialization in every part of the State.
He also made it known that the airport project embarked upon by his administration would be completed by April 2019.
The governor explained to the gathering that his administration had embarked on the massive acquisition of land for developmental purposes, saying the acquisition was necessary to review land allocation.
Amosun said the state government would continue to relate with the private sector players to address the problem of the infrastructural deficit.
ALSO READ: Power cut disrupts Buhari's speech at Abuja railway commissioning
He assured the business executives class that issues of bad roads, multiple taxations, environmental sanitation and activities of land grabbers would continue to receive the attention of the state government.
The state Commissioner for Commerce and Industry, Bimbo Ashiru, said 75 per cent of Foreign Direct Investment in Nigeria are domesticated in Ogun State.