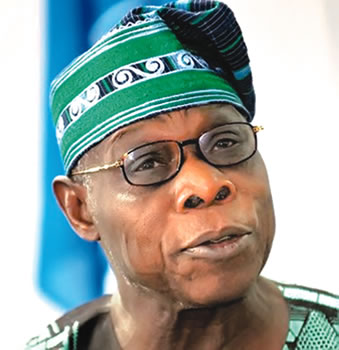 IN a tweet on former President Olusegun Obasanjo's evangelical press statement of Tuesday, January 23, 2018 calling on President Muhammadu Buhari not to seek re-election in 2019, having spectacularly failed the critical governance test, former Minister of Aviation, Chief Femi Fani-Kayode, who is ill at ease with the Buhari administration, wrote: "Obj has spoken, matter closed."   Whereas I concur that Obasanjo had, indeed, spoken, and like a clap of thunder, I am not sure that the matter has closed.  In fact, the former president has succeeded in pulling the tiger by the tail and challenging the creature to a battle of wits -whether subtle or obvious.  "Gafili, gadoki", meaning "see field, see horse" was what Obasanjo said in 1998 when he was asked about his readiness for the presidential contest after he had clinched the presidential ticket of the Peoples Democratic Party (PDP).  Buhari may seem to be saying exactly the same thing.
I have a strong feeling that Buhari  is very angry at Obasanjo's open vilification of his government and governance style; and, that he is ready to prove a point to Obasanjo.  I may not know, as of now, the point Buhari may want to prove and how he intends to prove it, but the one thing I know is that both are already locked in a brewing grudge fight. It may be understandable if Buhari feels that he is entitled to a second term in office, whether he performs to Obasanjo's satisfaction or not.  After all, Obasanjo, not being a saint or a perfect administrator, brooked no opposition to secure re-election in 2003 and even attempted constitution amendment that would have provided him with tenure elongation or a third term in office. Interestingly, both power-loving leaders have the distinction of being retired army Generals and war strategists.  They are also not new to battles, having both played some commanding roles in the nation's three-year civil war from 1967-1970.  To be sure, political battles are, however, different kettles of tea.  They are about wiles or guiles; dissembling or dissimulation; falsehood or dishonesty; undermining or undercutting; betrayal or disloyalty, et al.  They are about one entity outfoxing the other.
While Obasanjo is calculating, Buhari is crafty.  He has attacked what is most important to Buhari – presidential power – even if he is, perhaps, holding it just for the sake of it.  If Buhari recalls the number of times he had unsuccessfully attempted to mount the presidential horse, he would expectedly and naturally be inclined to take on Obasanjo in defence of his prized possession.  The prudent reaction, about 24 later by the Minister of Information, Lai Mohammed, to the former president's critical deconstruction of Buhari and his presidency, should not be misconstrued for cowardice or intimidation.  Buhari is, for crying out loud, president and Commander-in-Chief of the Armed Forces of the Federation.  He is probably being reflective before taking a final decision on how to relate with an openly critical Obasanjo.   Therefore, Lai Mohammed's initial response could just be provisional.
I have a hunch that Buhari will fight back anyhow, whether or not he wants to seek re-election in 2019.  If he has already made up his mind to throw his hat in the ring, then, that will signify the significant fight-back in defiance of Obasanjo's pro bono "do not re-contest" advice.  But in fighting back, the deeply-divided nation will be treated to a symphony of sorts in a morbid political conflict that is capable of causing collateral damage to political platforms, tendencies and interests.  Such negative effects were the concomitant outcomes of the decision by former president, Dr. Goodluck Jonathan, to seek re-election in 2015 against the advice by Obasanjo and the massive opposition from within and outside the PDP.By the time the presidential election was conducted and the result was released with Jonathan's historic acceptance of defeat, it was very clear that the PDP was headed for a troublous future.  It was also very clear that many entrenched politicians had been suddenly retired from active politics while a vast majority of budding politicians were compelled to decide whether to stay put in the PDP or redefine their trajectory out of the party.
The PDP experience should serve as a veritable reference point to Buhari and the APC.  If Buhari decides to run and he is defeated, for instance, by a PDP candidate or any other party's candidate, he can rest assured that he and his officials will be made to account for their stewardship.  They will be viciously grilled by a new-look Economic and Financial Crimes Commission (EFCC) essentially to expose the double standards of the truthful one, as he is wont to be referred to by his ardent followers in the North. With this possibility, I do not expect that Buhari will not put up a good fight to defend his position.  Even if he decides not to run on health grounds, I anticipate he would prop up a popularly acceptable candidate in his stead; otherwise, like Jonathan, he would lead his party into a cul-de-sac.  The fact that Obasanjo had spoken has now thrown up indices by which Nigerians and the international community would assess him (Buhari) and his presidency. Can he pass the acceptance test?
Should he or the APC fail to retain power in 2019, the new Sheriffs in town will latch on his evident failings or frailties to further sully his administration and indicate a probatory direction to finally unmask him as a pretender to the virtuous qualities he flaunted or which he dubiously made people to associate him dearly with.  For instance, in addition to reinforcing the charges of nepotism, ethnic chauvinism, impunity and mediocrity against him, there may be unequivocal attempts to present facts that do not support Buhari's claim of being a believer in talakawa (populist) politics as historically and philosophically popularised by the late Aminu Kano and tended to by former governor of old Kaduna State, Alhaji Balarabe Musa.   If Buhari does not want to be fatally deconstructed in a writ large fashion, if he does not want to dance naked too soon after leaving office, then he would have to do the needful by ensuring he covers his tracks and secures his back.  He should be honest with himself.  If he knows he can no longer muster the capacity to continue the mission to rebuild and redeem a nation that he has unconscionably-whether wittingly or unwittingly- profoundly divided, he will do well, in his own interest, not to present himself for re-election.
The president should be wise enough to dismount the horse, step aside for the best material in the APC to pick the presidential ticket just in case Nigerians would be considerate, forgiving and patient to give the party a second chance.  But my fear really is, will Buhari and the APC in either of the two scenarios, commit to a free and fair election as did Jonathan and the PDP?  Will Buhari be ready to concede victory to the opposition as did Jonathan even without consulting with his party leadership?
Ojeifo writes in via ojwonderngr@yahoo.com