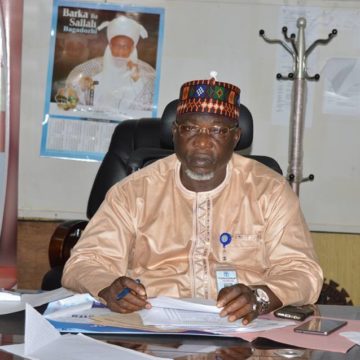 NIGER State Government has reiterated its determination to partner the Federal Polytechnic, Bida in various fields of human endeavours to move the state forward.
The State's Deputy Governor, Alhaji Ahmed Muhammed Ketso, gave the promise last Thursday in his office while receiving members of the Federal Polytechnic. The management led by the Rector of the Institution, Dr Abubakar A Dzukogi, who were at the Government House, Minna, on a courtesy visit.
According to him "technical and technological education which are being offered in the polytechnics are key to the development of our nation and as such the Federal Polytechnic, Bida, would be made to play a very important role in the development of Niger State by Alhaji Abubakar Sani Bello- led administration"
He, therefore, assured the polytechnic management of the state Government's readiness to welcome proposals of partnership in various areas of human endeavours by the polytechnic.
Earlier, in his address, the Rector of the Polytechnic, Dr Abubkar A Dzukogi, disclosed that they were in Government House, Minna, to congratulate the state governor, Alhaji Abubakar Sani Bello, on the achievements recorded by the state under his watch within the last two years.
The Rector enumerated some of the achievements to include prompt payment of salary to the state civil servants, construction of high quality road at Bangaie in Bida town, complete over-hauling and renovation of selected boarding schools across the state, recruitment of great number of unemployed youths and the recent efforts of the administration in securing Dangote group of companies to invest in the development of the agricultural sector in the state, to mention but a few.
Dr Dzukogi, thanked the state governor, Alhaji Abubakar Sani Bello, for the financial and moral support by the state government during the Polytechnic's Convocation in 2016 and commended the Deputy Governor, Alhaji Ahmed Mohammed Ketso who is an alumni of the institution for spending three days in Bida to personally participate in the activities marking the convocation last year.
The Rector also seized the opportunity to intimate the state governor, about the polytechnic's plan to hold another convocation by March 2018 and to pay another courtesy visit to bring the newly constituted Governing Council members of the Institution for an introduction to the governor very soon.
Meanwhile, addressing the newsmen shortly after the brief courtesy call on the Deputy Governor, the Rector, assured that the Federal Polytechnic, bids, would soon come with a proposal to the state government on areas of partnership within the state.
READ ALSO: 'We're practically running Bida Poly on IGR'