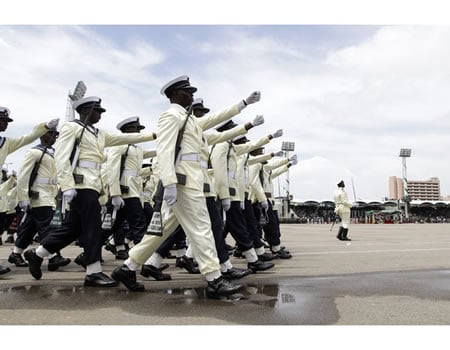 THE Nigerian Navy, at the weekend, swooped on suspected oil thieves with 2,700 litres of illegally refined diesel in Akwa Ibom State.
The Operation Base Officer, NNS Jubilee at Ikot Abasi Local Government Area of the state, Navy Commander Humphrey Oriekezie, who paraded one of the suspects, said the arrest was made around the Ette junction in Ikot Abasi, close to the NNS base.
Oriekezie said the suspect was arrested along with three Volvo wagon cars with which he and his accomplices were using to convey the illegally refined diesel.
The naval officer disclosed that two others, who were also working with the arrested suspect, escaped.
The naval chief said that the illegally refined diesel products were loaded from Ikot Abasi waterside and were being transported to Ekparakwa, Oruk-Anam Local Government Area of the state when the suspects were intercepted.
The product, Oriekezie said, was later handed over along with the suspect to the Nigerian Security and Civil Defence Corps (NSCDC).
"In line with the directives of the Chief of Naval Staff, Vice Admiral Ibokette Ibas, concerning zero tolerance to oil theft, NNS Jubilee is leaving no stone unturned in actualising this mandate.
"We are handing over the suspect and the contents suspected to be illegally refined diesel to the NSCDC in line with harmonised standard operatives procedure for further prosecution," he said.
Receiving the suspect, Chief Superintendent Officer of NSCDC, Ikot Abasi, Ojimba Abel, said the fight against oil theft had been a complimentary one among all the security agencies.
"I, therefore, want appeal to those who are still engaging in vandalism of oil installations to desist henceforth," he warned.