They are men but they are making a living from the kitchen. Akinola Onigbinde, Aliu Mohammed and Stephen Uwe, like a few other menfolk, are dominating their world in cooking (catering) business in different parts of Ibadan. And as cooks with Midas touch, dozens of people throng their kitchens daily to have a taste of their delicious culinary.
Onigbinde, a sturdy man in his late 40s, engages in cooking business with his octogenarian mother popularly called 'Iya Morenike'. Although they sell a wide range of Yoruba cuisines like amala, eba and pounded yam with different types of vegetable soupes to go, their food canteen, situated at Adeoyo/Federal High Court area of Ibadan, is very  popular for its well prepared pounded yam delicacy.
With 32-year history of cooking experience, Iya Morenike food canteen has carved a niche for itself beyond the boundaries of Adeoyo community in Ibadan as customers come for lunch from different parts of the city. The neatly kept wooden cafeteria is patronised by civil servants, businessmen and women, politicians and artisans from far and near.
The food canteen operates just five days a week (from Monday to Friday). At lunchtime, the centre is usually filled with customers who congregate to have their meals between noon and 4:30pm. They ride different range of cars parked around anywhere there is space. Many of them come in company with friends to enjoy their meals. Among them are old customers who have been patronising the canteen religiously like a worship centre for many years.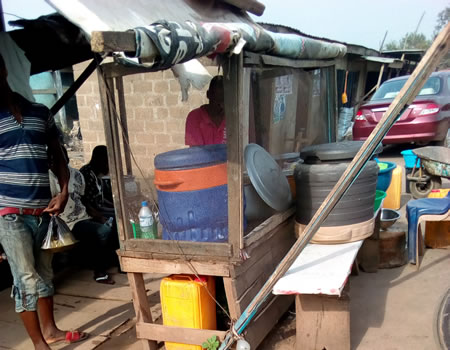 One of them is a financial analyst who simply gave his name as Sola. Disclosing that he has been visiting the food centre for the past seven years, he said: "This cafeteria is popular for its tradition of prompt service delivery and keeping to right quality. This is not a modern eatery but adherence to tradition is one big plus and reason why I patronise the canteen".
Mr Sola (other name not volunteered), who came all the way from his office at Iwo Road area of the city to eat at the canteen, said for instance that: "Their services here are very okay. I feel the need to encourage them because they are committed to giving credibility to local content. They keep the standard up and treat their customers as kings. One important thing is that they ensure that every customer is satisfied regardless of how many people come to eat at a particular time".
A female customer, Mrs Adenike (other name not given), who came to eat at the food centre with her husband when Saturday Tribune visited, said she is not a regular customer but always looks forward to eating there. Adenike got to know about the eatery through her husband who is a regular customer. She said: "What I like about the food here is the hygiene and the natural taste unlike other places where the food is over-seasoned.
"The quality of the food is as good as what women cook in the home for their husbands and that is nice enough. I like it better than fast food or food on the run."
A businessman, who gave his name as Mr Akin from Felele area of Ibadan, said the local food canteen is unique for the passion that is attached to their services. "Apart from the fact that their food is good, they keep tab with their customers and make everyone feel that they matter. I have known this place for long. The man who vends (Onigbinde) is a very intelligent man; he knows all the regular customers very well by their names and choices of food and unless you want to change your food order, once you take your seat he knows what to serve you without you telling him".
Food business is, indeed, a tradition for the Onigbinde family. Apart from the joint food venture embarked upon by the old woman and her son, Onigbinde's sister, Morenike is also into food business.
During an interview with Saturday Tribune, Onigbinde said: "I grew up to love food business. My mother has been operating food canteen in this area for more than three decades and we are still doing fine.
"I love food business and I never feel discouraged about it because it is very profitable though it is also very engaging. I have a friend who also took interest in food business as a result of my involvement in my mother's business. My (male) friend, Sola, was always coming to the shop to work with me and he likes food business too. Now, he is working with a hotel here in Ibadan".
Like Onigbinde, Mohammed is also in love with food business. Mohammed, who hails from Kano in Kano State, learnt about cooking from his late boss, Musa who was based in Zuba, Abuja. After his training, he opened a food centre in Abuja before moving to his home state to continue his venture. Within his 15years experience in cooking, Mohammed had operated his eatery at Abuja, Kaduna, Port Harcourt (Rivers) and Oyo.
Asked why he was moving from place to place to practice his cooking business, he said, "Cooking is really my hubby and I am happy that I am doing it. The business is good but at times we experience low period. Whenever there is low period in business, I feel worried and so always considered relocating to another place where things can be better.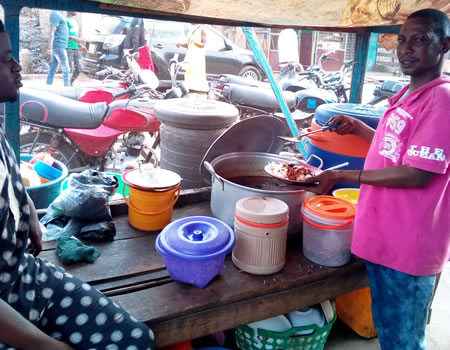 "The fact that the business goes up and down affects me as a family man and that is why I look for greener pasture. Now that I am in Ibadan, business is doing well and I am happy. If business does not go fine, I shall move to another place again".
Muhammed's cafeteria is popular for sale of tuwo shinkafa, a common Hausa dish milled from local rice. He also sells other foods like rice, spaghetti and beans at the popular Bodija market. His  canteen is a rallying point of sort to Hausa and Fulani customers as well as Yoruba and Igbo traders that patronise him.
He said: "Men and women, mostly traders and a few buyers from Bodija market always come to buy my food and they always pass impressive comments about the quality. I do the cooking most times and I invite others to join me. Whenever I am busy, I hire female cooks to cook for me. And, when they are done with cooking, they would bring it to the table for me and I would serve my customers.
"I make more sales from rice and tuwo shinkafa. My foods are of northern varieties. I am happy to see Yoruba, Hausa and Ibo people here to eat my food. I feel fulfilled when people eat the food and commend me that as a man, I can still cook good food for sale."
Mohammed is married with children. Asked if he sometimes cooks for his wife and children at home, he said: "No, I don't cook for them at home. That will be too burdensome after cooking from morning until evening for my customer; I won't go home and start cooking again. My wife is at home while I am here cooking to make money for a living. How will I get home again and still be the one to cook?
"No, she is the one who cooks for the home and I enjoy her meal because she is a good cook too. I am doing the business for survival; to pay my bills. I see my children through school from the proceeds of sale of food. I didn't go to school but I want my children to go so that they can be better persons in life".
Uwe, 23, who came from Benue State was brought to Ibadan by her mother in 2006. He started working as a houseboy but later learnt catering. He said in an interview with Saturday Tribune that "I went for catering training and I finished the training few years ago but I started the trade fully in January, 2018".
Buhari's reelection, a victory for Igbo's 2023 Presidency ― Andy Uba
Uwe's father resides in Benue State while his mother is based in Ogun State. Uwe said the need for survival pushed him into the business. He explained that as a result of his experience as a houseboy, he was constrained to learn how to make akara in order to eke out a living. He said: "I suffered as an houseboy and I didn't want that to continue so I decided that I should do something better with my life.
"None of my parents took to cooking as a profession and none of them lives here with me. I learnt the business of making 'akara' –bean cake after quitting my job as a houseboy. I worked with my master for some time and raised money to set up my own business. At present, I am doing well. I fry akara and sell it hot to traders at Bodija Market.
Asked about the challenges being experienced in the trade, he said: "I am not the only person selling akara here in the market but many people like eating my akara. The reason is that I have a standard and I keep to the standard. I keep my environment clean and I ensure that I use necessary ingredients for my akara to make it delicious and now people have come to accept it."
Uwe, who is otherwise called 'T-boy akara' says he fends for five younger brothers that he brought from his village with the proceeds of his business.
Lekan Hussein, a seven-year old boy selling eko (cold pap) said those who buy akara from Uwe often commend him for his ingenuity adding that he became close to Uwe because some of his customers sometimes buy 'eko' (cold pap) from him to complement the akara.
Uwe told Saturday Tribune: "My dream is to have workers who will market for me instead of frying and taking it round the market myself for sale as I do presently. I want to also have apprentices that would train under me and also set up their own akara business. Today, I don't have people to sell for me so I made only four kongos of beans. But, on a good day, I can fry double of that or sometimes I make more than that.
Indeed, while some men are good cooks only a few men go to kitchen to cook or ever helped their wives in cooking or doing house chores in Africa. The belief is that kitchen works or cooking is the exclusive responsibility of women.
Only a handful of men who know how to cook take it as full business. Even among those who take to cooking as a business, majority say that they cannot imagine cooking for their wives at home because it is the duty of their wives to do so. Onigbinde and Mohammed are examples of food vendors who would not give room to cooking in the home as men of the house.
Further random probe into reasons for their position reveals that most men are good cooks but chose not to help in the kitchen as a result of ego. Some of them claim that by the time they get home from work they are already very tired while others said it is a taboo for men to sit in the kitchen or cook for the home.
A man who does not want his name in print said that unless his wife travels or is sick, he could not cook for the home because it would send wrong signal. Ade Oladele who works at a bakery said he loves baking and can bake for the home or set up a bakery, "but I cannot imagine cooking food for the home or operating a kitchen for commercial purpose.
However some men, irrespective of their class or creed, love cooking for themselves and their families. An example is the popular Fuji maestro, King Wasiu Ayinde (Mashal) who, according to Femi, his son spends ample part of his free time to cook for himself and his family.
In an interview with Femi, a 2013 Computer Science graduate from the North American University, Houdegbe in Benin,
he told a journalist that his father "likes reading books or cooking. If he is cooking, he cooks for the whole day, from one delicacy to another. I am sure most people don't know my father cooks well and he enjoys cooking".