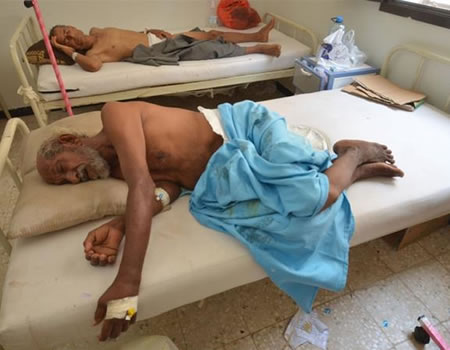 ABOUT eighteen people mostly women and children have died due to Cholera in the Borno State capital as at Sunday afternoon.
‬Eight others mostly children perished at the two MSF facilities in Muna and Dala Lawanti camps yesterday while hundreds were on admission for the same rampaging cholera epidemic.
"The forty bed clinic in Dala Lawanti has been overstretched as new medical tents are been erected to accommodate patients who keep coming in doves," said an MSF source.
According to another reliable ministry source "Saturday, in Muna, we saw an increasingly frightening situation as patients are brought in every minute while, critical cases were referred to Dala Lawanti for treatment. We are not yet overwhelmed but will soon be if we do not have more bed spaces.
"So far, Customs House and Muna Camp are the worst affected, and as I speak to you, the Commissioner of health Dr Haruna Mshelia and his team have stormed the place as at this Sunday afternoon assuring of quick intervention which, I think is what we are seeing today from all the partners.
Another impeccable camp management source with the ministry of health who spoke to the Nigerian Tribune on anonimity said that at least sixty additional suspected cholera cases were reported as at 2:00pm Sunday.
"The newly affected areas in the metropolis include Jalamare, nearby Custom IDP camp, Ruwan Zafi, nearby total filling station and Chad Bassin Development Authority and the battle is on to save more lives.
"The total number of suspected cholera cases in Maiduguri alone as at sunday afternoon were over 246 cases coupled with eighteen deaths which is likely to increase after the briefing of the Commissioner of health," which was on going as at the time of this report.
According to the source, "There is an urgent need to set up additional oral therapy centres in the affected areas so that it does not kill more kids in the 6 affected areas, Muna Garage remaining the epicenter."
Several deaths occurred in the community before reaching any health care center which the red cross source attributed to delay in the implementation of the new water management plan approved by the ministry and the health partners.
"But I don't think this new infections were all from infected drinking water, it must be from food and the environment because we are still battling to get them to stop defecation on the floor. What we are seeing killing the idps is mostly from exposed human faeces and that is the reality," said the source.