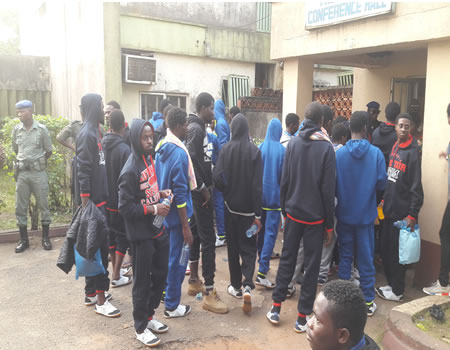 About 270 Libya returnees, who arrived the Murtala Muhammed International Airport, Lagos, 
on Tuesday
, were 
on Wednesday
 brought to Benin City, Edo State.
Sunday
 Tribune had exclusively reported that more Libya returnees would arrive the country 
on Tuesday
, bringing the total number of Libya returnees that have been brought to Edo State to about 1,100.
Some of the returnees, who spoke with our correspondent described their treatment in the hands of the Libyan Arabs as horrible, expressing joy that they could land in Nigeria once again and reunite with their families.
The returnees are being accommodated at the Benin Motel Plaza on the bill of the Edo State government.
One of them, Cynthia Alfred, who said she left Nigeria for Libya on her way to Germany in August, said she paid about N1 million to a Nigerian agent, who promised to take her to Germany via Libya.
She said that she was imprisoned along with many others for weeks and fed on a loaf of bread per day.
Edo State Commissioner for Justice and Attorney-General, Prof Yinka Omoregbe, said Edo State was not unmindful of the fact that majority of the Libya returnees were from Edo State and that the state government will ensure that the returnees were fully assimilated into the society.
She said, "With this batch, we are now at 1,100. The rehabilitation process has already started. We are talking to them, counseling them and providing them with medicare.
We have commenced appropriate training programmes that are patterned after what they were doing before. We will also give them stipend for three months during which they would have started their training.
"We have a system of monitoring and evaluation. No one has commenced and sustained this kind of programme. There's a lot of mindset changing that needs to be done."