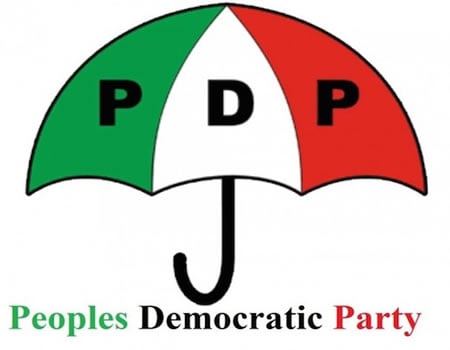 A youth group in Kwara state chapter of the Peoples Democratic Party (PDP), Kwara Strategic Alliance (KSA), has condemned current romance of national chairman of the party, Uche Secondus, with some political opponents in the state, saying it is against the interest of members of the party in the state.
Addressing journalists in Ilorin at the weekend, coordinator and spokesperson of the group, Busayo David and Ibrahim Sheriff, in company of other members of the group, demanded a sincere apology from the national chairman of the party for not carrying PDP members along on his recent visit to the state, calling on him to retrace his steps and work in the interest of members.
They also said that members of the PDP in the state were kept in the dark over the basis for the relationship with politicians who are not members of the party.
The people, who criticised recent visit of the national leadership of the party to the state without knowledge of the state party executives, described the development as a show of disrespect for the state chairman, state Central Working Committee and all PDP members in the state.
They, therefore, called on Prince Secondus-led administration of the party to bring back political morality and social sanity to the PDP to enable the party to knock out her reputational challenges.
The youth group, which vowed not to allow any attempt to undermine the party constitution and membership in the state, said that every interested new entrant to the party should apply to their wards, saying, "We will resist with every legal means in our disposal to prevent any attempt to hand over, even award structure, to any new entrant into the party".
ALSO READ: Ekiti 2018: Confusion as Accord national leadership suspends state EXCOs for supporting PDP
"The PDP is, by the nature of its name and ideological inclination, a party that believes strongly and abides by democratic tenets and the rule of law.
It is our conviction that the PDP constitution clearly states the procedure for admitting new members into the party which is a bottom-up approach. Why are the national working committee of the PDP acting against its own constitution and principles just to please someone and his cohorts?
Is this not an indication that the party is positioning itself as a lawless and immoral one with no iota of respect for its own members and constitution? Why should this be done to the whole structure of the PDP in Kwara state that has given its all to the party?", he said.