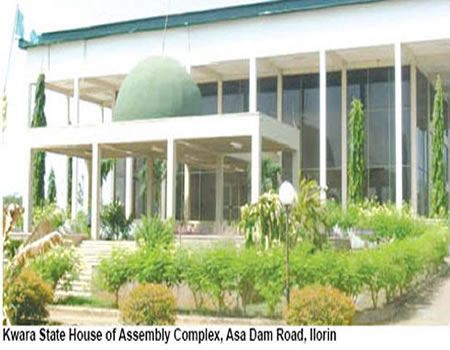 ALL the 24 members of the All Progressives Congress (APC) controlled Kwara State House of Assembly, except one, have defected to the Peoples Democratic Party PDP.
Speaking on the floor of the  Kwara State House of Assembly in Ilorin on Wednesday, from a speech he personally signed, the Speaker, Rt. Hon. Ali Ahmad said that the move was permitted by the proviso to section 109 (1) (g) of the Constitution of the Federal Republic of Nigeria.
The Kwara State House Speaker, who said that he heaved a sigh of relief as he and other members of the House dumped APC for good, added that he wished he was never a member of the party.
"As politicians, who allow the interests and welfare of their constituents to occupy the front seats, wide consultations have been made with people at the grassroots and in all of these is the indication that our people have become disillusioned with our continued membership of the APC and have spoken loud and clear enough and in one voice that they no longer wish to continue to be strange bedfellows in that party where non-performance, injustice and impunity are the orders of the day.
"Accordingly, let it be on record that I too have joined the Peoples Democratic Party PDP.
ALSO READ: Deputy senate president, Ekweremadu, in EFCC custody
The Speaker, who lamented experiences while in APC, said that, "Unarguably, the intrigues and power play that birthed the long drawn legal battle with key members of the APC over fathom allegations coupled with the arbitrary use of government institutions such as the police and anti-corruption agencies for harassment and intimidation of perceived opponents of people in power since APC assumed power, has dealt a heavy blow to governance.
This act of illegality has turned the once great Nigeria to object of ridicule among the comity of nations.
"With the current unprecedented spate of disobedience to court rulings, the present administration at the national level has redefined governance as the government of the cabal and for the cabal thereby throwing the rule of law, the bedrock of democracy, to the dogs".