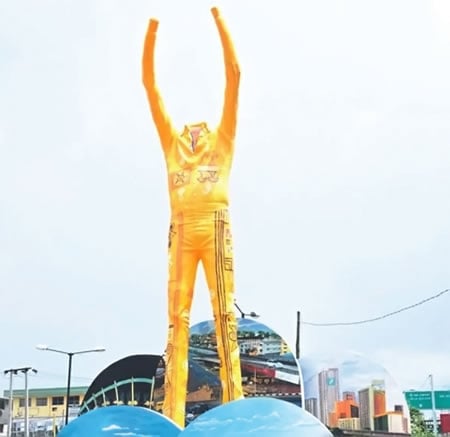 This year marks the 20th anniversary of the death of Afrobeat legend, Fela Anikulapo-Kuti. By the time of his death at the age of 58 from AIDS-related causes on August 2 1997, Fela's reputation as the preeminent African musician of his generation was already established. And 20 years on, it is gratifying to know that he lives on in the hearts and minds of millions of people around the world who continue to enjoy his music and pine for his brand of social justice activism.
To mark the 20th anniversary of Fela's passing, the Ogun State government, in partnership with the Federal Government, moved to convert the Kuti family house in Abeokuta, the Ogun State capital, into a museum. Speaking at the ceremony to officially rename the house as Heritage Museum, Minister of Information, Culture and Tourism, Alhaji Lai Mohammed, spoke admiringly thus about Fela and the entire Kuti family: "The Kuti family, as you know, represents different things to different people. Whether you talk about education, emancipation, music or entertainment, this attempt by the government in immortalising the family by preserving and restoring the ancestral home of the great family is very commendable." For the Ogun State governor, Senator Ibikunle Amosun, "Fela was ahead of his time; for us, it will be in our interest to let people know his origin, roots, where he was from, and somehow for the Kuti family, there's none of them that is not a book and history on his own that people will love to read any day, any time."
The Ogun State government and the Federal Government are not alone in the rush to honour Fela. On October 15, as part of activities commemorating the 20th anniversary of Fela's transition, Lagos State governor, Akinwumi Ambode, unveiled a statue of Fela commissioned by the Lagos State government and erected at the popular Allen Roundabout, Ikeja. Speaking on the occasion, Governor Ambode said that the Liberation Statue was created to "celebrate a man who voluntarily turned his back on a life of comfort and privilege, and took up his saxophone as a weapon to fight for the liberation of our people from neo-colonialism and bad governance."
It is meet that Fela is being celebrated 20 years after his passing, and that government at the state and federal levels are joining other private initiatives to ensure that Fela and his legacy do not fade from memory. However, while we approve of these efforts, we also feel that it is extremely important that some key inconvenient facts about Fela and his relationship with successive Nigerian governments are not swept under the carpet. In the first instance, Fela himself would have found the irony of the Federal Government collaborating in an effort to honour him rather bemusing. For, let's face the fact, Fela and the state were hardly on speaking terms during the eventful life of the musical legend. He was detained and jailed countless times, and was repeatedly physically abused and humiliated by law- enforcement agents acting on the direct orders of successive military juntas. It is one of the deepest paradoxes of Nigerian history to see the same state that once regularly treated Fela as a moral pariah scrambling to celebrate him and honour his memory.
This brings us to another key point. In his speech at the unveiling of the Liberation Statue, Governor Ambode spoke of Fela's struggle "for the liberation of our people from neo-colonialism and bad governance." It is true that Fela railed against imperialist subordination of Africa, but it is even more accurate to say that he fought against injustice and bad governance in all forms, whether they were  meted out by foreigners or local power hoarders. Fela, bless his soul, was an equal opportunity critic for whom the identity or race of the autocrat was irrelevant.
All this is worth keeping in mind as the nation remembers a man who was individualist to the point of sedition, and believed and fought for a democratic Nigeria long before democracy became commonplace.
---
---