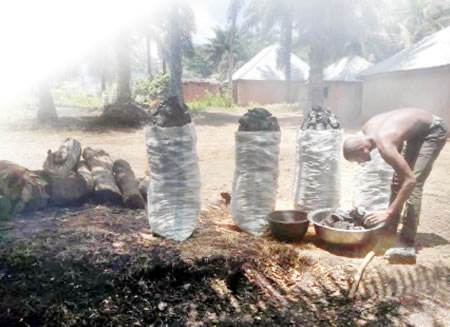 A group of women in Marraba Arusu community in Nasarawa State, mostly widows, are creating jobs for themselves and some others too with charcoal business, but they may not be able to continue for much longer, unless government comes to the aid, writes JOSEPH ENNA.
THE high rate of unemployment in Nigeria is so alarming in spite of several policies of past government to remedy the situation. All over the nation young people roam the streets, not sure of what the future holds for them.
It is however obvious that young  people, some of them graduates, have realised that government cannot give them the employment they so much desire to have. They have therefore made efforts to create job opportunities for themselves since they could not continue to remain idle because as the saying goes, "an idle hand is the devil›s workshop."
This is the story with residents of Mararaba Arusu in Kokona Local Government Area of Nasarawa State, where the people had decided not to remain idle by engaging in the production and selling of charcoal along the major roads of Akwanga and Keffi.
Charcoal which is the product of an incomplete or partial combustion of carbon mainly from wood, is a very valuable fuel for household and industrial uses and it has been in existence since man knew how to cook his food.
Traditionally, charcoal is prepared by burning wood from some select trees as the burning process is carried out in a controlled environment with little supply of air and for some calculated amount of time determined by the producers.
Most of the wood used for making charcoal is got from trees generally known as hardwoods, predominantly found in the North-Central states of Nigeria. Its demand as a source of fuel over time has remained almost constant and the process involves felling of trees. Though government is seriously concerned about this and has placed embargo on illegal operators, residents of the area are undaunted saying they have no other option for their survival.
Deputy Director of Forestry, Nasarawa State Ministry of Solid Mineral and Environment, Idi Abubakar while speaking with Arewa Live said "forestry is guarded by law and it is only the government that can close and open the forest. Based on the power confirmed on the governor,  he has closed the forest," he said.
He added that the state has keyed into a programme known as "afforestation against deforestation" which also forbids fellings of trees, because allowing it will «expose the ecosystem to deforestations which may also cause ecological challenge," he stated.
When Arewa Live toured Marraba Arusu, it was observed that virtually every household has a heap of sand gathered around them, which turned out to be their local factories for the production of charcoal.
Investigation revealed that most of the people there are settlers from Wamba Local government area of the state, and they are predominately widows.
The charcoal makers, in separate interviews with Arewa Live said they are into the business because they need to have a means of livelihood to take care of their families and pay their children›s school fees.
Mama Joe,  one of such women in the  business for over five years, said she used to sell about 30 to 40 bags of charcoal on daily basis at the rate of N1500 per bag during  this raining season. «But the price  also dropped  to N1000 as soon as  the season is over.
"It is from  the little profit we get from it  that is sustaining us. From there i pay my  children's school fees and buy food with the rest," she said.
Another producer named Mrs. Esther Silvanus whose said she has been in the business for over six seven years, expressed her joy  and comfortability she enjoyed for at least to have  something doing amidst the economic challenge of the country, stating that the business is lucrative and profitable.
Mrs Silvanus, thanked God for the foresight to identified this business that even today the government recognises them, and they also contributing to internal generated revenue of the state.
"Every year we used to remit 30,000  to 40,000 naira to kokona LGA as revenue whenever they came with the bill,  we used to shared it amongst us doing the business to raise  the require amount and pay. At least, we also contribute something to government, they should also help us.
"Our major challenge is on our young people here who have finished school and still don›t have something doing a part from this charcoal which is so common is every household you enter in this place.
"We are calling on the government to assist our children with job opportunity, even if is ordinary cleaner our children would be very please to do in order to enjoy the benefit of education and have a future», she explained.
Also, an aging mother, mama Justina Bako said she has being in the business through out her stays in the community, and it has been what she used trained all her children in school from primary to tertiary.
She said people now see charcoal  important and an good business, with the sudden hike in price of gas and kerosene that made almost everyone in the country to wood charcoal as best alternative for cooking.
Adding that charcoal is smokeless, hence does not harm ones eyes while cooking, and is free from any risk or danger while cooking unlike gas, kerosene and electric cooker.
"Selling wood charcoal is a right path to make huge money and the market is so friendly, because a lot of people passing here are so dire need of it as an alternative source of energy, especially cooking," she reiterated.
While responding to the embargo passed by state government on illegal failing trees, Justina Bako said «we are aware of that but since we have no alternative ways to survive with eight, nine and some ten children, what can we do? We considered this as the simply and easiest option for us to make headway in life.
Explaining the process involved in the production, Mama  Justina said "we do go to interior bush cut fire wood and then hired truck to conveyed them to this place, as we cut the wood into small  length and arrange the wood to be burnt, you now cover the surface with fresh leaves and then make fire under it.
"While is flaming, we used plenty sand to cover it all round and allowed it burning for about three to four days. Thereafter, removed the charcoal with rake and package them in a sack for sell», she explained.
Mama  however, pleaded that government should help them with money to start something else, "because we no longer have the needed strength to produce enough for ourselves and the children and you know there are many responsibilities shouldered on us."
Jummai Uriya, who further took her time to practically described the final stage production, said "as you can see, I am applying water to make it cold after burning for three days, I will now remove the sand with this big hoe, thereafter used rake to extract the charcoal from the pound and package them in  sack for sale.
ALSO READ: Travails of the average Nigerian
"We used to put it by the road side and those travelers going to either Jos, Abuja, Lafia and Makurdi to buy. We don't lack what to eat from this business," she said.
Another producer or this product, Naomi Joshua appealed to the government to created job for their youth who stayed at home for years after their graduations, saying nothing for them to do apart from the charcoal business and farming which also difficult to process.
Explaining the cost effective in producing charcoal, she said "we bought fuel of N10, 000 for operator who will cut the woods in the bush, and also pay him workmanship of N3,000 before hiring truck that would pack  the wood to the house at cost price of N3,000," she stated.
Naomi further said in spite of the expensive, they still make profit out of it and is much better than sitting at home home or folding alms waiting for government to provide job for them.
Calling on other youth not to remain idle, but find something doing so that the current hardship in the nation would not lure them into criminality.