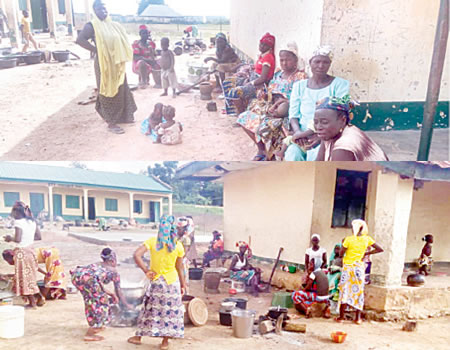 A few months back flood ravaged many parts of the nation just as the Nigerian Metrological Agency had predicted. YINKA OLADOYINBO, MICHAEL OVAT and ADELOWO OLADIPO were at various Internally Displaced Persons camps to report on how the victims of devastation caused by the flood are trying to rebuild their lives.
THOUGH the rains might have subsided in many parts of the country, victims of the initial downpours are still trying to put their lives back on track. But these rebuilding efforts, Sunday Tribune found out, for some of the victims have been slow and agonising.
Some of the areas affected by flooding are the sprawling communities of Ogbaru and Ayemelum in Anambra State at the bank of River Niger. This led to the creation of IDP centres in Anambra East, Anambra West, Ayamelum, Ogbaru, Onitsha North and South and Ihiala, which were the most affected local government areas. As of now over 5,000 IDPs are camped in various designated centres.
Sunday Tribune undertook an on-the-spot assessment of the IDPs centres. Findings revealed that the victims are faced with hunger, health challenges, economic loss and most importantly the difficulty of returning to their homes in good time.
Twenty-six-year-old Steven Ekwe, a father of three and a local farmer from Ayemelum Local Government area of the State, is one of the IDPs. His farm had been washed away by flood and that has left him in a hopeless situation.
"If the place where one earns one's daily bread is no more, then there is no reason to feel happy," Ekwe explained.
"It (the flood) started gradually and before we knew it, it filled everywhere. This is not due to rainfall because there was no rain at the time. We just saw the water coming. It has been up to two months now. The water came from the River Niger," Ekwe said, recalling that he now has to depend on goodwill to take care of his family.
He is not the only victim living from hand to mouth. Another farmer, Maria Okpa, from Cross River State, said the disaster has shattered her hope and aspirations, just as it has stopped her children from attending school. All her farm produce had been washed away. She is looking up to government to efforts to enable the IDPs return to their homes.
Hunger is Goddy Kelechukwu's major headache. He is an okada rider but he has not been working for some time. He was in his village with his wife and children on that fateful day at the close of work when he saw the water rushing down.
"I quickly ran to a motor park to bring a truck to evacuate my family members and
some of our belongings. But when I came, the water was so much that the vehicle could not pass through. So, I hurriedly went to hire a canoe but before I came back, all my property was gone with the flood. Our major problem here is having something to eat," he lamented.
Disaster is no respecter of physical state as Okey Udey, a physically-challenged man is also in the same shoes with others. He complained to Sunday Tribune that over 320 persons are using the same toilet in the IDP camp.
"I lost some of my property to the flood and my entire family is facing this disgusting situation. There are many other physically-challenged persons like me here and some us have build our houses but all of them have been partially submerged. We are waiting on the state governor, Willie Obiano, to fulfill his promise of rebuilding them for us in no distant time," he said.
At the compound of the late highlife music icon, Chief Stephen Osita Osadebe, where his 18-year-old son, Ikechukwu Osadebe got drowned at Atani in Ogbaru council area of the state, the mood was still sombre. Okey's mother, Mrs. Amaechi Osadebe, was still in shock when Sunday Tribune called.
Mrs Chinasa Ajanwu is all alone now taking care of nine children. Her husband, Chief Ojike Ajanwu, got drowned trying to evacuate as much of his farm produce as possible when the flood came but failed. Nursing a one month old baby with eight other children to feed has not come as an easy task for Chinasa, she wants well-meaning people to come to her aid so she could cope with the fate that has suddenly befallen her.
Anambra victims of flooding are not alone. At the Zungeru IDP camp in Niger State, several families, for instance, sometimes up to 20 families are cramped into one classroom, leading to overcrowding. Despite the situation some women were delivered of their babies.
According to Yusuf Aliyu, who is the Secretary of the camp, "the IDPs are from Gungu village, a community that was flooded on Friday 14th September. Residents of the village ran to a neighbouring community, while others were brought here by the officials of the State Emergency Management Agency (NSEMA).
"There are too many families inside one classroom. In total there are about eight classrooms in the school compound where about 20 families are accommodated. In some cases the classrooms contain more families," he said.
As of today, the IDPs are waiting on federal government's promise to give them building materials through NEMA to aid their construction of the resettlement centres allocated to them by the Niger state government.
Malam Aliyu told Sunday Tribune that if the building materials were made available to them by NEMA, it would hasten their decision to leave the present IDP camp at the Central Primary School in Zungeru, to allow their children resume school.
"The major issue we are facing now is that we want to relocate to our new resettlement centre in Wushishi Local Government Area in preparation for our dry season farming and fishing activities. Our farms and our houses in the village have been washed away by flood during this rainy season," he lamented.
The Incident Commander, NEMA Emergency Operation Centre 'A' covering Niger, Kwara and Kebbi states, Mr. Idris Mohammed, however, had allayed the fears of the IDPs, saying they would soon receive NSEMA's assistance over the issue of the building materials. The material, he promised, would soon be delivered to them at the camp.
He explained further that NEMA was not trying to flout the presidential directive given by Vice-President Yemi Osinbajo on the supply of building materials to the IDPs at the Zungeru camp.
ALSO READ: Lagos and the challenge of housing delivery
Tales of woe in Kogi communities
Residents of Ibaji, Lokoja, Igalamela/Odolu, Ajaokuta, Kogi, Idah, Bassa local government areas would not forget in a hurry when flooding visited their communities. Mostly hit was Ibaji, where many farmlands were washed away. Thousands of rice, yam, and maize farmlands were submerged. Though many had relocated to IDP camps some insisted that they would not leave their abode despite threat of flooding.
At the Koton Karfe camp in Kogi local government area, victims relayed bitter experiences to Sunday Tribune, pleading for assistance from both government and private individuals. Their living condition since they moved to the camp, they said, had been deplorable to say the least.
A rice farmer from Akpaku village, Idris Abdulmumuni, said he had one of the largest rice farms in the village, regretting that the flood had destroyed his entire livelihood.
"I have 10 hectares of rice farm. I also lost my maize, potatoes and okra farms to the flood. I couldn›t harvest anything. Since we were displaced and we came to this camp on September 7, we have been suffering. For the local government area, they are supposed to help us with some things but they are not doing it. Even nets that could have helped us to catch fish, we cannot get.
"We don›t have money to buy nets so that we will be able to enter the water to at least catch that we can eat at this critical point. The livestock we were rearing such as cows, goats, sheep and fowls were all destroyed. When the flood came, it took us unawares and as such, we could not evacuate those livestock. Besides, there was no money for me to hire engine boats to evacuate them. I only managed to escape with my family members using my own small wooden boat.
"For now, no help has come to us from either the state or federal government. We know that Buhari is a good man and even our governor. But the issue is that sometimes, when they release relief materials for victims affected by flood, government officials in charge often divert them. We want government to help us with foodstuffs, clinic and drugs so that we can feed and also have access to treatment. Lack of food and drugs will worsen our situation in the camp. If nothing is done to assist us, it will lead to many people developing hypertension due to excessive thinking,» he lamented.
Abubakar Musa is in the same situation as Abdulmumumi. He has two wives and nine children. His rice, maize and cassava farms were destroyed and gone with them is the hope of bouncing back.
"The little food we managed to bring to the camp have been exhausted and we are now left with nothing. There is hunger in the camp. We don›t have nets, mattresses and blankets. We also have challenge with place of convenience and wherever to baths. Our women cannot take their bath in the afternoon, except in the night," he complained.
The situations in other camps provided for the victims of flood across the country are not too different from the places visited by Sunday Tribune going by media reports. Inhabitants of the camps are not finding life at these camps easy, as government›s promises to them have barely been kept. They are living on hope and praying hard to get their lives back. They just want their lives to return to normal.