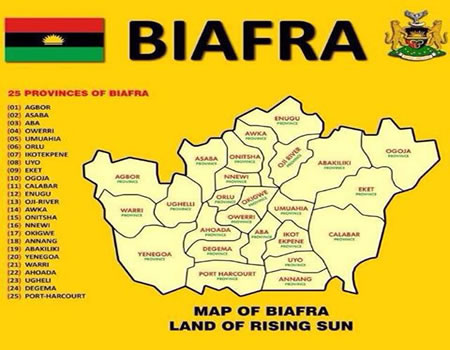 The apex sociocultural group in Ibibio land, Akwa Ibom State, has expressed dismay at the inclusion of their territory in the proposed map of Biafra Republic, saying they would not be part of the secessionist agenda.
Under the aegis of the Ibibio People's Union (IPU), the group emphasised the importance of one Nigeria, noting that while the country was still trying to shake-off the gashes of the last civil war (1967-70), a section of the country was beating the drum for another rounds of war.
According to a statement by the group and made available to Metro in Uyo, the state capital, leaders of the group rejected being drawn into the struggle and reiterated their resolve to salvage the country together under one Nigeria project, at least for now.
The Global President of IPU, Ikpafak Edet Udofia, "the Ibibio is not, has never been and will never be part of Biafra", adding: "the union categorically and very strongly repudiates the effrontery of those who would draw a map of their dream Biafra and included Ibibio land without prior consultations".
Ikpafak Udofia, who expressed sympathy with the Igbos in the north under threat of expulsion by Arewa youths and their sponsors, condemned the action, arguing that every Nigerian and foreigners doing genuine businesses in Nigeria were free to live anywhere in the polity.
He said: "We condemn any act of intimidation, violence against any ethnic group in the country. We strongly encourage the Federal Government to protect the lives and properties of all Nigerians in Northern Nigeria".
Besides, the group explained that in the event of the country breaking up, the Ibibios of Akwa Ibom State have the right to determine their future.
"We declare that should Nigeria disintegrate, Ibibio people are capable of forming their own country by themselves"
There are many countries in the world today whose population is less than the current population of Ibibio," Ikpafak Udofia said.