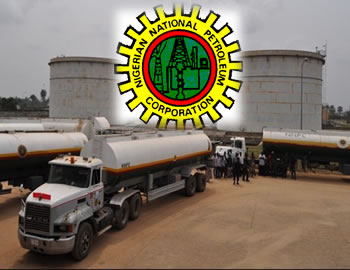 Chief of Staff to the president, Abba Kyari, on behalf of President Muhammadu Buhari, met with oil marketers in Abuja 
on Tuesday
 where a committee was set up to explore ways to augment the cost of petroleum importation incurred by oil marketers.
The ad-hoc committee headed by Minister of State for Petroleum Resources, Ibe Kachikwu will meet at 
10am
Wednesday
 to work out details of how to prevent the products scarcity witnessed in the country last December.
Also at the meeting which took place at the State House Conference Center were Group Managing Director (GMD) of the Nigerian National Petroleum Corporation (NNPC), Maikanti Baru, Director General of Department of State Services (DSS), representatives of Independent Petroleum Marketers Association of Nigeria (IPMAN) and Deport and Petroleum Marketers Association of Nigeria (DAPMAN), Nigeria Labour Congress (NLC) among others.
Speaking to State House correspondents after the meeting, Kachikwu deflected questions on alleged blackmailers mentioned by President Muhammadu Buhari during his New Year Day broadcast as those behind the recent scarcity.
He said 
Tuesday's
 stakeholders' meeting was to analyze what went wrong in the supply chain and find a lasting solution.
The Minister said:  "The whole idea was to do a centric analysis of what really went wrong. Like you know for over two years we have been out of this petroleum, it's been working well,
NNPC has been managing it properly and suddenly there was this gap.
"So, they wanted us to put heads together to find out what went wrong. It is not a fault finding meeting, how do we take correcting measures to avoid that and what are the things that are creating the difficulties in the system.
"Because fuel scarcity has been ever lingering 30, 40-year-old thing and I think it is to the credit of Mr. President and his government over the last two years that we haven't had any of this through his policy that he has enunciated.
"So, that was the objective of today's meeting. Everybody gave ideas, everybody was collaboratively finding solutions."
On whether erring marketers had been identified for an appropriate sanction, the minister said there was no evidence against anyone.
He said: "The thing is even the Nigerians who have suffered will want to be sure that we find a lasting solution and find an evidential basis upon which to punish people. This is a democratic government."
On the evidence available to marketers, he added: "I feel your pain, we share in those pains but we are going to find a lasting solution. they are people who are culprits they will be identified, in fact, the chief of staff instructed that specific names should be put on the table, those who have gone against the rule, done certain things that are against the book should be punished.
"But the greatest difficulty in Nigeria is that people make allegations when you then ask for evidence even one, everybody now goes back into the safety nets. You cannot prosecute except you have evidence.
"I'm 30 years old as a lawyer. So we will need to find that evidence, we will definitely punish those who were things that are wrong, but more fundamental and more importantly is that we want to find lasting solutions and we all want to work more collaboratively.
"How close are we to that lasting solution. We are going to sit down and find a lasting solution. Let's face it we have had this lasting solution for two years."
Chairman of the Board of Trustees (BoT) of IPMAN, Aminu Abdulkadir, said 
Wednesday's
 meeting would work out details of augmentation by the federal government.
Asked whether the marketers expected subsidy to be able to resume import of petroleum, he said: "On subsidy, I think there is a meeting that is coming on 
tomorrow
 by 
10 am
 at the honourable minister's office.
"I think full disclosure will be made on plans and ways of augmenting marketers shortfall so that marketers can come back to business. Because if marketers are in the business, NNPC will be augmented. Because what has happened today is that because NNPC was left alone and it will not be easy for them to manage all the depots, the trucks, the stations.
Because it will not be easy for them to manage them.
So, its a business for all. Before this time NNPC was doing 60 and marketers were doing 40 percent. In fact, there was a time NNPC was doing 40 and marketers 60 percent. But today, marketers is zero."
Speaking in the same vein, Dapo Abiodun Chairman of DAPMAN absolved Independent marketers from blame over the recent scarcity, saying they could not import petroleum only sell at a loss.
He explained: "From our point of view as marketers,  we made our submission known to the government and we emphasized the fact that this was not a marketer-related problem.
"There was no hoarding on the part of any marketer. Marketers are your brothers, they are Nigerian citizens, they are businessmen, no marketer makes money from hoarding petroleum products, our business is to take petrol and sell.
"We explained that the problem that you saw is not willful on the part of anyone either NNPC or marketers. The situation from our point of view is that from January to December, the price of crude remained relatively stable.
"Following the hurricane the month of September October, crude prices went up and marketers lost the ability to import and sell at N145 per liter.
"Since the price of crude is directly proportional to the refined product, we could not import petrol and sell at N145 anymore. And this business is a partnership between marketers and NNPC. Marketers being in a certain volume and NNPC also brings in a certain volume.
"In the past marketers bring in about 60 per cent while NNPC brings about 35 to 40 per cent. But by the month of October marketers completely stopped importing because of there no more subsidy.
"So, we can't sell for profit. So we have to stop importing. So the burden of importing 100% now fell on NNPC. So you can imagine a situation where NNPC was importing in part and marketers were importing in part and then suddenly NNPC begins to import 100 per cent."