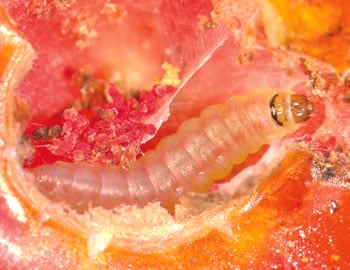 THE Vice President of the National Association of Agribusiness Group (NABG), Mr Emmanuel Ijewere, has alerted farmers on the return of Tuta-absoluta, known as Tomato Ebola.
He made the disclosure of the possible return of the disease, at a one-day Tomato Price Stabilisation Forum, held in Kaduna, at the weekend.
He said the with the help of research earlier conducted by the Nigerian Institute of Horticultural Research (NIHORT), on how to combat Tomato Ebola, farmers could easily tackle the infestation by "putting water and detergent in a plastic bowl, and placing a  stone on it. Then beam  a  rechargeable lamp  on the bowl."
He said morphs and flies responsible for the diseases easily get attracted to light,  and as a result of that, they fall into the bowl.
Ijewere blamed  the epidemic caused by Tuta absoluta on farmers' ignorance on how  to combat plant diseases,  adding that "the infestation could  also be cured with extract collected from lime tree leaves, when sprayed on tomato plants.
"Farmers  don't have to spend so much money on buying chemicals that are sometimes harmful.
"We are now improving  their level of education, and this year, we are prepared as we have been having lessons on how to effectively get rid of it for good," he said.
Meanwhile, the secretary of the Kano State Tomato Farmers Association, Mustapha Adamu, at the forum, decried the level at which adulterated tomato seeds were imported and sold to farmers without verification.
Attributing crash in the tomato business to adulterated seeds supplied by marketers and government's failure to checkmate their activities, Adamu said: "the biggest challenge we face is related to the seeds. They allow every marketer to come with variant of seeds, without test or verification, and we have no choice than to buy those seeds, which end up not good when planted. This is the biggest challenge we are facing."
In his address, Kaduna State deputy governor, assured the stakeholders present at the forum, of the state's maximum cooperation towards ensuring that Nigeria met up with other countries in producing and exporting tomatoes for consumption.
The deputy governor, who was represented by the commissioner for agriculture and forestry, Professor Kabiru Matto, said: "If we don't arrest the situation of tomato wastage and processing, it will be impossible to produce for consumption and exporting.
"Kaduna is the largest producer of tomatoes in Nigeria, and tomato business is one of the riskiest business to be involved in, because of the challenges involved, maintenance and how to get it to the offtakers."