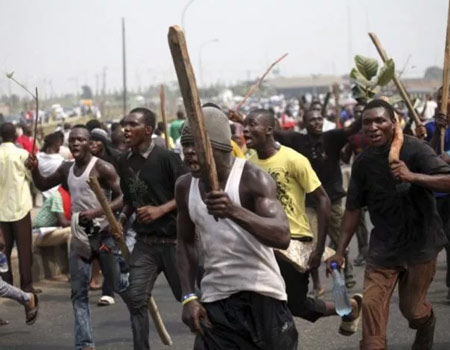 FOUR people were reportedly killed, while several others sustained injuries when gunmen stormed Bakin Kogi village in Kaninkon chiefdom of Jemaa local government of Kaduna State.
An eyewitness told the Nigerian Tribune that the incident occurred around 10 am on Sunday when the victims went to tap palm wine and they were returning home.
According to the source, the hoodlums opened fire at them, killing the four of men on the spot.
He said the victims were almost home when they were attacked. "We were just rounding up from church when we heard gunshots."
ALSO READ: Police commissioner decorates newly promoted officers to rank of ACP in Anambra
Source revealed if though the security operatives in the area were alerted but they did not act in time when the incident occurred and the hoodlums escaped.
When contacted the police image maker State Police Public Relations Officer, ASP Mukhtar Aliyu confirmed the incident but quickly added that they were yet to get full details.
As at the time of filing the report, the police spokesman promised to get back to our correspondent as soon as he received a detailed report of the incident from the Divisional Police Officer and the Area Commander.
He said, "I am yet to get the report from the DPO. I am waiting for him. I heard of the incident. So many reporters called me but I have to get the full details before I can release it to you(journalists)."
Meanwhile, the Kaduna State Government on Sunday dispatched the State Emergency Management Agency (SEMA) to Bakin Kogi community in Jema'a local government, following the killing of some citizens.
A government statement issued to the Nigerian Tribune and signed by the governor's aide, Samuel Aruwan extend it's condolences to the residents of Bakin Kogi and Kannikon chiefdom.
It also condemned the attack and sympathised with the families of the victims.
It said, "Following reports of an attack on residents of Bakin Kogi, the state government deployed officials of SEMA to the area to assess the situation and take necessary steps to relieve human suffering with immediate effect.
'The SEMA team, led by the agency's chief executive Ben Kure, is already in the area.
"Security operatives are in the area, where they are investigating the criminal activity and providing reassurance to residents. The government is ready to prosecute anyone found culpable by the security investigations.
"While the institutions of law and order are doing their work, the government is appealing to our leaders in our traditional institutions, civic and faith groups to continue the work of calming our communities, and bolstering the constituency for peace, security and the rule of law.
"The state government commiserates with families that lost their loved ones and prays God to grant them eternal rest. In these difficult times, the government will continue to discharge its duty to secure the state and promote peace and harmony across our diverse communities.