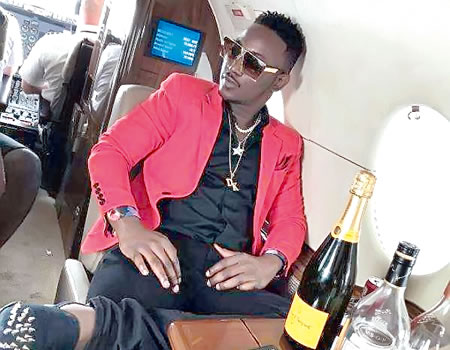 Last weekend, when the news of the arrest of Nigerian pop artiste and 'enterkraner', Dammy Krane, filtered in on various online platforms, many thought it was a joke or PR stunt. It took a few days before it dawned on his fans and Nigerians that his arrest may have been real. Although his family released an official statement claiming that Dammy Krane was innocent of the charges of credit card fraud and identity theft charges and that it was his friend who was arrested with him, Ilochonwu Chukwuebuka, was the one who paid for the jet flight using fake/stolen credit cards.
"He has been in the US for some time now and he has regularly been booked for shows all across America. The guy he was arrested with had actually booked him for a show this weekend in Miami. And he (Chukwuebuka) was the one that paid for the jet and made hotel reservations with the stolen card details.
You know it is a usual thing for show promoters to book flight tickets for artistes, so one cannot blame Dammy in this situation. A lawyer has already been contacted but unfortunately, Dammy would have to stay in jail till Monday when they would be able to go to court to perfect bail conditions," the aunt had stated. Dammy Krane has however, on Wednesday, released on bail and set to appear in court on June 23.
With the recent happening, coupled with claims in certain quarters that Nigerian-American rapper, Sinzu (formerly Sauce Kid) also has had run-ins with the law, the issue of entertainers living above their means and resorting to a life of crime has been on the front burner . According to online reports, it alleged that 32-years-old Sinzu was arrested and booked on 26th July 2016 in Idaho for grand theft.
From investigations, it wasn't the first time Sinzu has had problems with the US authorities. In 2014, a mug shot emerged online showing that he had been arrested for forgery and unlawful possession of a firearm in 2013. He was reportedly indicted for that crime. His arrest was made known on Instagram by a friend, rapper Willy Bang, who posted a 2016 mugshot of the rapper with the caption, "#FreeSinzu Miss Ma G @chiefhunnitbands."
Meanwhile, Sauce Kid reacted to the allegations. He took to Instagram today, May 1, 2017. He wrote, "My family, friends and fans are the last people I wanted to disappoint right now, so I kept things on a need to know basis with those in my immediate circle. Paparazzi fans took it upon themselves to wish me well, thanks. I am taking care of what's important right now, and working on new music as usual. Heard these streets been dry anyway. Industreet vol 2 coming soon  . #Sinzu100Gang I appreciate all of you. #Industreet #SMG #SinzuMusicGroup."
Many other entertainers have been accused of fake lives in recent time thus the question, "Must one fake it to make it?" According to many who spoke to Friday Treat, the lifestyle of many Nigerian entertainers is actually quite questionable. Sani Hassan, a banker said, "You see an artiste who doesn't have any hit track or headlining major shows buy a N10 million Benz or claims of buying a house in Lekki. They post pictures in top hotels, private jets, wearing designer clothes and expensive jewellery etc. Even the ones that we rarely see on television or hear on radio are seen living the fast life and riding Range Rovers all over Lagos. Which work do they do? We know the bankable ones and we know most of their money comes from shows and endorsements. So, for the ones who are not patient to 'blow', they do everything to appear well to do'.
Akabue Martins, a real estate agent, in his opinion, is that most Nigerian entertainers use their entertainment practice as a front to perpetuate crime. He said, "When you see an 'artiste' spending millions on drinks at the club in one night, spraying thousands on the girls who flock around etc, you tend to suspect that the money may not be hard earned. The lifestyles of most of them are a façade. The likes of Wizkid, Ali Baba, Basket Mouth, P Square, Olamide, Funke Akindele etc are people generally known to have paid their dues in the industry and are successful in their own right, judging by the mouth-watering endorsements and shows they headline. Still, most are not seen to live flashy lifestyles and spend millions in clubs. They are invested in real estate etc."
Another respondent, Sharon Adesina, an undergraduate, feels that entertainers are pressured to act rich, since entertainment is 'show business'. "I cannot totally blame them. Their songs are basically about how affluent they are, among other things. After a while, they believe the lie and don't want to be seen as not doing well. So, they start chartering cabs and buying expensive stuff. Note that in the entertainment world, a 'successful artiste' mustn't repeat clothes. Remember that Wizkid, Skibii were once trolled online for repeating sneakers/clothes. In fact, most artistes are paid by show promoters based of how much hype or fakeness one can garner. This is made worse by the advent of social media where once you post yourself in attire, everyone knows what you are wearing and can track if you repeat it.  It is sad but most impatient or ones with low self esteem resort to online fraud or money laundering etc in order to make money."
Veterans in the music and movie industry have also at different times, spoken against the fake fast lifestyles and wrong messages posed by new-day entertainers. In an interview, Yoruba movie actor Funsho Adeolu, who is one of the biggest Yoruba movie actors in the country, spoke about why he does not live a flashy lifestyle.
"Maybe because I'm just original; that's why. I'm real and not a fake person. I live my life for myself and God not for any human being" he said.
However, he stated that most celebrities live fake lives and flaunt their wealth because it is a part of the business.
"All of them live fake lives, all of them that you see flaunting their wealth. Generally, it is a thing of the industry and you need to make people see you all the time especially so you can get brands to notice you. But when they see you flaunting cars and other things, you are endangering yourself and your family. Some people will see that and say, let me go and steal", Funsho Adeolu said.
A comedian, Michael Chijindu, popularly known as 'Grand Komanda' has expressed concern that some celebrities are living fake lives capable of influencing the youth and society negatively. Chijindu told the News Agency of Nigeria (NAN) in Lagos recently that the fake lifestyle of these celebrities had a way of affecting their future.
"I do not subscribe to living a fake life under any circumstance, but you cannot stop people from doing what they like. "Maybe because it is called show business and some of the celebrities decided to outdo themselves by displaying things on social media. "So a couple of people do a lot of showing off to keep their fans out there talking about them," he said. The comedian expressed the belief that the life of a celebrity should not be all about show off, adding that it was important that they teach people a lot of positive things through the media. "There should be some level of discipline as to what and how much they let the public know about their private lives. "I have seen situations where people get into huge debts because of the craze and desire to live flashy lifestyles. "I strongly believe in investing the money being made no matter how little to enable one live stress free life  later in life," he said.
Jide Kosoko is an entertainer who many people have huge respect for. He is also one actor that has successfully acted in both the Yoruba and English genres of the Nigerian film industry. The veteran actor recently opened up on his life as an entertainer, which he confessed, has robbed him of his privacy. Jide Kosoko revealed to a daily newspaper that most artistes live fake lives just to impress people because of their status as role models. He said, "It has robbed me of my privacy. The moment you become a public figure, your life becomes other people's business. You have to pretend to be a gentleman even when you are a rascal".
The question on critics lips the is, "Must one fake it to be seen as successful even when it is a lie?".
The entertainment industry, indeed, has its effects on the psyche of its stakeholders who have to always put up a front or happy face all the time. In Yemi Alade's words in a recent chat with Friday Treat, "Everyone expects a celebrity to smile for the camera even when the celebrity doesn't feel like it. It is a responsibility that we have accepted willingly because it comes with the job".
However, trying to be what one is not clearly defines what kind of person the individual is. It has been argued even by psychologists that living fake lives by all means is a mental issue. How true this claim is remains to be proved though but, it is important to note that as role models, entertainers have a responsibility to pass the right message to the younger generation especially. Critics opine that artistes are expected to inspire good in their fans especially in present economic clime where crime may be a favourite option to the impatient. So, entertainers are encouraged to embrace their true status with hope for a better, sustained future.