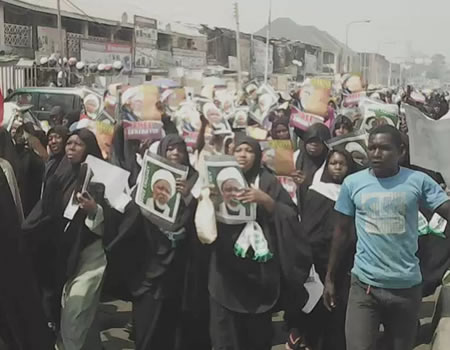 Business activities as well as transportation was grounded in Kaduna metropolis and its environs on Wednesday, when protesting Shi'ites under the aegis of Islamic Movement of Nigeria (IMN) called on the Federal Government to immediately release their leader, Sheikh Ibrahim El-Zakzaky, who had spent over 600 days in detention.
The protesters, who blocked all the major highways in Kaduna metropolis, were chanting "Free El-Zakzaky, we demand justice, we are Nigerians," "Release El-Zakzaky or kill us all."
Commuters had to trek to their various destinations, as there was no bus or taxi in sight.
Speaking to newsmen, spokesperson for the protesters, Mallam Nuhu Mafara, said they were out in large number to demand  unconditional release of their leader who had been in detention for 612 days.
Also, a press release signed by one of the group's top member, Sheikh Abdulhamid Bello, issued to journalists read: "While there are known figures in Nigeria today agitating for the break-up of the country, with some even issuing ultimatum to the government, here is Sheikh Zakzaky, who never committed any treasonable offence languishing in jail.
"We will not rest on our oars until justice is done to the most oppressed Shiekh of our time, Sheikh El-zakzaky," Bello said.