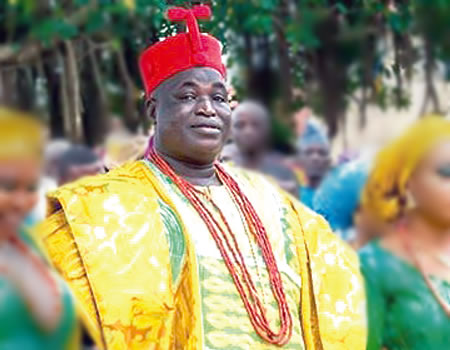 Oba Munirudeen Adesola Lawal, the Timi of Edeland, speaks with OLUWOLE IGE about his background, his ascension to the throne, socio-economic developments in his domain and challenges among other sundry issues.
What is the difference in life as a lecturer and as a traditional ruler?
Initially, it was very hectic. As a result of the divine power attached to my position as a monarch, you are not as free as you were before. You cannot just to anywhere and people started calling you Baba, Baba. I felt so strange and in fact when I see people that are older than my father, prostrating and calling me Baba, it was a shocking experience for me when I newly became the king. With my present position, I cannot just go out as I like. One cannot go to the beer parlour and take beer as I used to do before. The change was so sudden and hectic for me. But, I thank the Almighty Allah for everything.
Since you ascended the throne, what are the socio-economic developments that have come to Ede as a community?
First of all, I want to appreciate the Almighty God for giving me the opportunity to become the Timi of Ede. God has done wonders in my life and all glory be unto God. When I came on board, there wasn't any hotel in Ede. We had beer parlours and what I cannot call a hotel, but there wasn't any standard hotel. So, my priority was how I was going to facilitate the establishment of a high standard hotel in Ede. I thank God for answering my prayers. Within two years of my ascension to the throne, Blue Petals Hotel was built in Ede. Similarly, the Western Sun Hotel was also established. Apart from that, there are several hotels now that have been built in Ede. Let us come to education and that is the area where I think God has actually answered our prayers. This is due to the fact that when I ascended the throne, there was no single university in Ede, though we had the Federal Polytechnic in Ede, which was sited here during the reign of my predecessor. By that time when my predecessor was on the throne, we were yearning for at least a university in Edeland. We thought the then state government would also give us a satellite campus of Osun State University (UNIOSUN). We felt that my son, Hon Adejare Bello, who was the Speaker, Osun State House of Assembly and third in the hierarchy of governance would be able to explore his power in ensuring that a satellite campus of UNIOSUN was sited here. But, we could not get that opportunity. So, we were not given the satellite campus, which was taken to Ejigbo because, we are in the same zone. We were focusing on that because we wanted to compare notes. During the reign of Late Chief Bola Ige as the governor of old Oyo State, Baba S. M Afolabi was his deputy governor and by the time they were building the campuses, Chief S. M Afolabi took the satellite campus of the Polytechnic Ibadan to his hometown in Iree. Similarly, late Chief Bola Ige, who was the governor took the College of Education to his country home of Esa Oke. Late Chief Gbolagunte, who was the Speaker of the Old Oyo State House of Assembly, also took a satellite campus to his hometown. So, we felt that they would follow that trend when satellite campuses of UNIOSUN were being established during the regime of Prince Olagunsoye Oyinlola. But, Prince Oyinlola, a good governor and visionary politician then said jokingly that royal eulogy of "Timi Agbale Olofa Ina", meaning Timi with the flaming arrow would not encourage him to give us a satellite campus. But all the same, we thank the Almighty God. Fortunately, the Redeemer's University had been in the pipeline before I came on board. During the reign of my predecessor, Baba Adeboye came to Ede for a crusade and after the crusade he approached my predecessor and he told him that had nothing to give except land that can be used to build church. Later, Pastor Adeboye came back with Redeemed Church delegation, seeking for land to establish a university and the king willingly released land to him. But, unfortunately, there were crises because some people felt that the university, being a Christian university should not be sited in Ede, a predominantly Muslim community. There was a lot of conflict and that actually led to the establishment of the temporary campus of Redeemer's University in Mowe, Ogun State. Baba Adeboye approached my predecessor in 1982 and so the first set of land was given to them. When I came on board, the university had started producing graduates from Mowe. So, I took so many steps and God answered my prayers and by January, 2012, all the management of Redeemer's University came from Mowe after pressures from our side to break the news that Baba Adeboye has agreed the university should be moved to its permanent site in Ede. This is because the university was given approval by the federal government based on the vast land given to them at Ede. By 2014, they moved all the students from all the faculties to Ede. That was how we had Redeemer's University in our town. It started during the time of my predecessor, but came into reality during my time. I was barely three months on the throne when I was approached by Dupe Adeleke Sanni that my son, Dr Deji Adeleke wanted to establish a university in Ede. We started looking for land and that was how I was able to allocate land to him at Logo road. That was how we have Adeleke University. Another son of Ede, Late Pa Ilori came to me that wanted to establish a College of Education in Ede. Before that time, he had already established a primary and secondary school in Ede. Similarly, I allocated land to him to establish the college. There are so many private secondary schools that have been established in our community, including Winner's Secondary School, along Aisu road. In terms of financial institutions, we have First Bank, Skye Bank, Wema Bank and Unity Bank. When I came on board, we had only four fuel stations. But, now I cannot count the number of filling stations that we have in Ede. In a nutshell, there has been impressive social and economic growth in Ede since I ascended the throne.
What are the challenges facing Ede as a community in terms of basic amenities that requires government's intervention?
I want to say that government cannot do everything, though the motive or vision of our founding fathers that led to the creation of Osun State had been defeated. I want to be sincere with you. By record, when Osun State was to be created, my predecessor, Oba Tijani Oladokun Agbonran played a significant role. Though, the struggle for Osun State's creation started from the days Baba Laoye and we can rightly say that two of them played vital roles. By then, they had a focus that all the government's ministries would be divided into these cities, namely, Iwo, Osogbo, Ede, Ikirun and others. That was why initially everything relating to waterworks was in Ede. By then, we had a dam in Ede that supplied almost 20 communities. Later, everything was packed to Abere and that was the first problem we were having. Though, Ede is a zonal headquarters, we expected Ede to be developing at the same pace with the capital. That is why you see that most of the important cities in Osun are not as developed as they ought to have been. By now, we ought to have had a dual carriage way in Ede. Presently, all our roads are just too bad and in deplorable condition. We have been praying that economic recession would be over so that the government would be able to at least have a touch in other cities and the concentration of development would not be in the capital alone. The aim of any government is to curb urban drifting so that people can be encouraged to stay in rural areas, thereby aiding social and economic growth of rural communities.
What is the historical fact behind the title Timi Agbale Olofa Ina?
Ede was established by a warrior. We have two Ede; Ede Ile and the present Ede. Ede Ile happened to be a land belonging to Alaafin of the old Oyo Empire. Right away from Oke Osun, immediately after the bridge to Offa in Kwara state was part of the Old Oyo Empire. It was then known as Ibolo land and it was the domain of the Alaafin. There were people that were merchants, traveling from Apomu to old Oyo Empire and these merchants were always troubled or attacked enroute Old Oyo Empire by miscreants as well as Ijesa Arara. They always waylaid them to collect their luggage and money. It was as a result of this that the then Alaafin Sango sent somebody that was very powerful that will be assisting him to protect the merchants and face the Ijesa Arara. So, Baba Timi Agbale Olofa Ina was sent by Alaafin Sango to be escorting all these merchants across the routes to old Oyo Empire. Baba Olofa Ina stayed very close to Awo. He stayed under a particular tree known as Igi Ede. When the merchants were coming from Apomu, he would escort them, passed through Igi Ede and leave them to come back to under Igi Ede. When some of those merchants are coming and it is dark, they will stay under the Igi Ede with him so that very early in the morning, they can start their journey again. That was how people started building huts around this Igi Ede. That was where Ede was coined. Baba Timi Agbale was doing this job collecting token from the merchants. All these money were sent to Alaafin Sango. So, normally a time would come when somebody would feel like why am I doing a job and somebody would be reaping the fruits. So, Baba Timi Agbale now decided not to send the money collected from the merchants to Alaafin Sango again. By then, at Oyo, Alaafin wanted to get rid of Gbonka. At that time Gbonka was so powerful that he was threatening the reign of Alaafin Sango. So, Alaafin thought that if he sends Gbonka to face Timi Agbale, Timi would be able to conquer him because of his flaming arrow. But, Gbonka defeated my father and Timi was taken down to Oyo. Alaafin said he was not satisfied with the fight and that they should fight in his presence. Again, Gbonka defeated my father, Timi Agbale Olofa Ina. That was the end of Baba Olofa Ina. Another man, wasa also sent to replace Olofa Ina and that Baba Alapo Tiemi Tiemi. He was also one of the brave lieutenants of Alaafin. Alapo Tiemi Tiemi continued with the job and from the Tiemi Tiemi, the title Timi was coined, meaning we (merchants) are with Baba Alapo Tiemi Tiemi under Igi Ede. That was the historical facts behind the creation of the title, Timi Agbale Olofa Ina. He was the first Timi and he was very popular with his flaming arrow. Apart from Timi, our predecessors were able to use the flaming arrow to defeat their opponents, coupled with other charms, which we have now. We still have the samples of the flaming arrows. We also have Opa Oranmiyan, which is the staff of war. Immediately you allow that Opa Oranmiyan to touch the ground, that place would be deserted by people. We still have all these things intact here till today.
Is there any taboo in Ede community?
In Yorubaland, we cannot dissociate from the old Oyo Empire. Most of the taboos that affects whoever is the Alaafin also affect us at Ede here, any taboo and prominent among the taboos that cut across the Yorubaland nation is that as a Timi of Ede, you must not eat new yam until some rituals are performed. When the new yam comes, there must be a ritual that must be performed before the Timi can eat the new yam. You will see that this is common to all the monarchs in Yorubaland. People call it different names; Baba Ogiyan of Ejigbo would call it Ogiyan Festival, while other people call it other different names. In Ede, we call it Odun Isu.
What are your plans for the celebration of your 10th year anniversary as Timi of Ede?
My installation was January 16, 2008, but we decided to mark the anniversary on the date of my official coronation which was 5th of March, 2008. Actually we are having a plan towards the 10th year anniversary on the throne. That would be in March, 2018. We have set up a committee and other sub committees to ensure that we have smooth celebration. We have a plan to build a new palace in a virgin land behind the present palace. We have also set up new palace committee. They are working a new design and how to invite people that would take part in the launching and we have strong hope that everything would work out fine.
Can you describe your background?
I was born by a prince known as Kareem Abefe Lawal, who married a woman named Abibat Akanke Lawal from Ile Imole compound in Ede. By birth, Abibat Akanke Lawal happened to be the granddaughter of Abeeb Olagunju and my paternal side happened to be from Laminisa ruling house, which means from both sides, I belong to royalty. Precisely in February 1956, a baby boy was born and the boy was named Munir Adesola Lawal. I attended an Islamic school where I learned the concept of Arabic and after that, I was enrolled at L.A Primary School, at Obada Ede and completed my primary school education in 1966. My father was a tailor, which was a popular profession in Ede; they used to call him "Bojua", meaning expertise in sowing Agbada, Aso Ofi, Dansikim and others. So naturally, I was trained as a tailor, due to my father's background. I was so verse in the concept of tailoring such that I know the job very well. After leaving primary school in 1966, my father told me point blank that he had no money to further my education. But, that year I got admission into Seventh Day Adventist Grammar School, Ede. So, I was taken to St Peters Anglican Primary School, Oke Egan to repeat Primary 6. The then headmaster, known as Baba Ajagbe, from Ogbomoso admitted me to repeat Primary 6 in 1967. In 1968, I was admitted to Baptist High School, Ede, where I completed my secondary school education. I passed out with Grade 2 because I had F9 in English Language. Unfortunately, I lost my father before the conclusion of my secondary school education. That was in August 5, 1972, when we were writing our Mock examination. He died in a motor accident. That really affected my education. Though, he did not attend school, but he learnt the art of writing through adult education and he attached great importance to education despite not having money. Before he died, he took me to Lagos so that somebody would help me secure visa to travel abroad. When he died, I felt that was the end of the world, but my mother took up the whole responsibility. Before my father's death, he had a relationship with one Baba Adewemimo, who was a police officer in Enugu, he promised to help me secure a job if my result was good. So, after my father died, he wanted to fulfill his promise; he asked me to come to Enugu in 1973. At Enugu, the man secured an appointment for me in Universal Insurance Company, where I was trained as a policy seller and posted to a branch in Enugu. Then after resuming, I had this feeling that something was missing in me and needed to further my education and I told Baba Adewemimo. He tried to help me get employment into the Nigeria Police, but because of my F9 in English Language, they said I cannot be enlisted as an Inspector of the Police, but as a corporal and Adewemimo said I should not take that. After working for a while in Enugu, I felt dejected and approached our manager, pleading with him to transfer me down South and he transferred me to our branch in Marina, Lagos State. In Lagos, I was unable to sell a single policy and I was wandering about looking for clients. Later, I abandoned my job and came back to Ede. There was a man I can never forget, his nick name is Alhaji M. Ade, who was a bookseller. He took me to Osogbo Grammar School, with the intent of doing my HSC. But, because of my F9 in English, the principal rejected me and Alhaji M. Ade took me to Ogbomoso Grammar School. When, I was interviewed, they were impressed about my performance, but raised issue about my F9 in English. The teachers that interviewed me had a discussion and it was agreed that should be given an opportunity such that before I get to Upper 6, I should have taken another examination to get a better result in English Language. In 1974/75, I sat for GCE and had P7 in English. I completed my HSC and was taken to Osun Central Schools' Board and got a job, after which I was posted to Timi Agbale Grammar School as a Mathematics and Further Mathematics teacher in October 1975. In 1978, I obtained a form of Adeyemi College of Education to study Mathematics and Chemistry Education. After the completion of my programme, I went for the one year mandatory service and was posted to Bornu, now Yobe State, in Buni Yadi, few kilometres from Damaturu. After the NYSC programme, I was posted to Baptist High School, Ede. But, before the conclusion of the NYSC service, I obtained Bayero University form. Later, I was admitted to study Library Studies and Mathematics. In 1984, I had my degree there. In 1982, I emerged the best student in Library Study and was given federal government merit award, which I used to complete remaining two years. In 1988, I obtained form for my Masters programme in Business Administration from Obafemi Awolowo University (OAU), Ile-Ife. I later worked in Obalaoye Grammar School, Ede in 1991 and 1992; that was when the governor of Osun State, Late Senator Isiaka Adeleke approved the upgrade of the satellite campus of The Polytechnic, Iree and that of Esa Oke to a full fledged polytechnic. So, I saw the adverts that they needed an MBA holder and submitted my application and by December, 1992, I was given an appointment as Lecturer 2 at Osun State Polytechnic, Iree, teaching mathematics and other courses. I headed various departments as deans, HOD and  I was there until the opportunity came in January 16th, 2008 when I was named the next Timi of Ede. That was my journey so far.
---
---