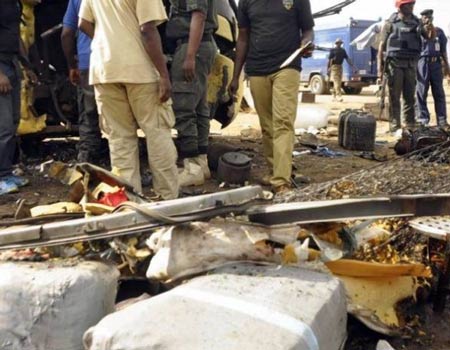 THE Police in Maiduguri have confirmed that 12 persons were killed and 48 others wounded in a suicide bomb attack in Maiduguri on Wednesday.
The Commissioner of Police, Mr Daminian Chukwu, confirmed the incident.
Chukwu said that a male suicide bomber detonated an explosive device at a crowded market killing himself and 10 other persons.
"One other suicide bomber out of panic detonated explosive and blew himself alone into pieces".
Chukwu disclosed that the corpses and the wounded persons were evacuated to the University of Maiduguri Teaching Hospital.
The commissioner called on the people to be vigilant and report suspicious persons in their communities to security agencies.
"People should be vigilant because Boko Haram insurgents have not surrendered," he warned.
The News Agency of Nigeria (NAN) reports that the incident occurred at about 4: 15 p.m. when the bomber detonated an Improvised Explosive Device (IEDs) at Alai Fadawu market of Muna Garage area on the outskirts of Maiduguri.
NAN reports that the incident was the first suicide bomb attack in Maiduguri since the beginning of the year.
Muna Garage has recorded series of suicide bomb attacks coordinated by the Boko Haram insurgents in the past one year.
Also, the state government had reviewed the curfew in the metropolis to be observed between 8 p.m. and 6 a.m.
The curfew is to enable the military to complete the ongoing clearance operation against remnants of the insurgents.