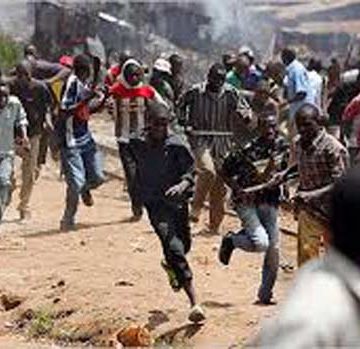 TWELVE persons suspected to be armed herdsmen have been arrested by the Nigerian army, Enugu in a rekindled effort by the security operatives to checkmate farmers-herdsmen clashes, kidnappings and other crimes in Taraba State.
In a press statement issued on Wednesday by the Deputy Army Public Relations, 82 Division, Enugu, Col Sagir Musa, said its troops of 93 Battalion Takumhave arrested a mercenary and 12 other suspected criminals in different parts of the state.
According to him, "As a standing Nigerian Army (NA) policy, the 82 Division has therefore directed the handover of all the suspects to the police, Taraba State Command.
Col Musa said, "In compliance with the instruction, the Battalion has successfully transferred/handed over the suspects and the exhibits of 1 x Ak 47 Riffle with 10 rounds of 7.62 mm special ammunition to the Commissioner of Police, Taraba State for further necessary action. The suspects and the evidences were handed over between 19 – 22 May 2017"
"The suspects are; Mr Babatunde Oladiji – 48 years – a mercenary caught with AK 47 Rifles with 10 rounds of 7.62 mm special ammunition (Handed over to the Divisional Police Officer, Takum Local Government, Taraba State). Others are; MrIgba Shiaondo – 26 years, Mr Mngo Asui – 38years, Mr Dengi Usman -28 years,Mr Sani Ali – 20 years, Mr Suleiman Yahaiya – 20 years, Mr Umar Sanda – 19 years, Mr Zakari Umar – 20 years, Mr Ishiaku Gado – 19 years, Mr Mulega Uma – 21 years, Mr Yusuf Gbokolo – 20 years, Mr Msughter Uter – 27 years and MrInnocent Danwua – 47 years.
The Army Spokesman also said,   "Similarly, two impersonators, dressed in Nigerian Army camouflage uniform with walking boots, – (Mr Makrop Jonah – 26 years and Mr Nanbal James – 22 years), were apprehended by a patrol team of 93 Battalion at Ibi Local Government Area, Delta State on 5 May 2017.
He said that during interrogation, the suspects claimed to be personnel of the Nigerian Navy Tactical Operations Unit in Delta State on "reconnaissance" for possible deployment on Ibi Water Ways, adding that further scrutiny indicated that they were fake.
"Consequently, as a NA and indeed 82 Division principle, they too, were transferred to the Nigerian Police Force Taraba State for necessary action", he added.