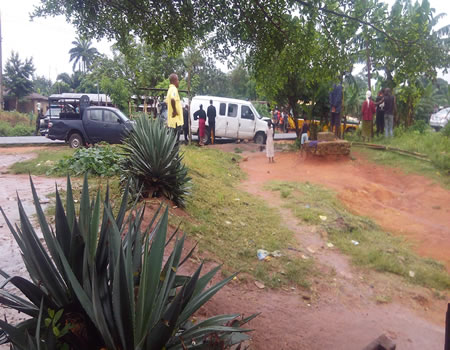 Dare devil armed robbers on Wednesday intercepted a bullion van carrying cash from a new generation bank in Akure to an undisclosed bank in Ondo town of Ondo state.
The robbers numbering ten intercepted the bullion van at Ireje village in Ondo East local government area of the state around 1pm, injuring some police escort and some bank officials in the attack.
An eye witness who was at the scene of the incident narrated that the robbers after overtaken the bullion van,  intercepted the van and shot directly at the van wounding the police escorts in the other Hilux van.
He said the robbers jumped down from their vehicles, spraying the bullion van,  the escort van and the back up van but were unlucky as they left without achieving their target.
He said "the robbers were unable to break into the bullion van to steal to take the money away, they shot at the bullion van but could not gain entry and had to leave after some fifteen minutes of heavy shooting "
The source who is a resident of the village said the police escorts responded to the attack while some of the hoodlums were hit with bullets in the process.
He however said the robbers had to take to their heels and bowed to the superior weapons of the policemen and escapee through an alternative route to Ile Oluji, helping some of the injured armed men into their vehicles.
He said " the robbers intercepted the policemen and the van and they all came down from their two vehicles and opened fire at the bullion van
"we were lucky our children are still in school and this saved us from having casualty while most men have left for their farms,  there was heavy shooting for about fifteen minutes. Those at home run for their safety. "
He explained that, the robbers ran into the bush after the operation while some policemen who were injured in the attack also also ran into the bush.
Our correspondent noticed the presence of men from all the security agencies in the state, they were drafted to the scene of the accident to beef up security around the deflated bullion van while some of them were seen combing the surroundings.
Confirming the incident, the state Police Public Relations Officer (PPRO), Mr. Femi Joseph said the robbers were not able to carry the money inside the bullion van away.
He said no policeman was killed in the attack but confirmed that some of the policemen escorting the bullion van to Ondo town were injured.
Joseph said " Our men engaged the robbers in gun duel but we were able to over-power them, the robbers escaped with bullet injuries and we are already on their trail"
It will be recalled that similar attack took place some few meters from the scene of the incident last year in Elemosho community.