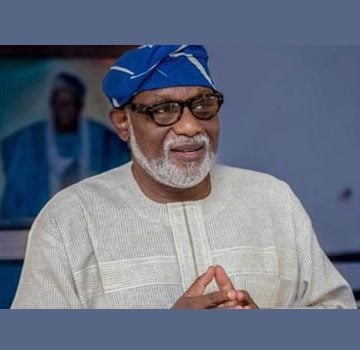 FOLLOWING the alleged attack on the campaign train of the lawmaker representing the Ondo North Senatorial district of Ondo state, Senator Ajayi Boroffice, in Owo, by some hoodlums suspected to be political thugs, the State governor, Mr Rotimi Akeredolu, on Sunday, denied having any link with the attack.
Speaking on behalf of the governor, the Chief Press Secretary to the governor, Mr Segun Ajiboye, in a statement, described the allegation as not only untrue but concocted to embarrass the governor.
The media aide to the Senator, Kayode Fakuyi, alleged the State governor, for sponsoring the attack which occurred in Owo on Saturday.
But Ajiboye said " this cannot be true. You all know Governor Akeredolu to be a civilised and gentleman who will never settle for anything that takes the shape of violence. He is a respected lawyer and it is laughable to want to link him with an incident like the one being alleged.
"You know the guilty are afraid, and the Senator is only looking for who to blame for his inadequacies of eight years as a senator.
"You can ask an average Akoko person what they want is development and the governor is doing just that with road constructions in Akoko.
"Let me also say this, Governor Akeredolu is more concerned with delivering the dividends of democracy to the people of the state as he promised than having the time for such cheap blackmail which is aimed at scoring a cheap political point as this one."
Meanwhile, the State Publicity Secretary of the APC, Mr Alex Kalejaye, also confirmed the incident, saying some aggrieved people in the town attacked the lawmaker and not party members.
He said "I gathered that while Senator Ajayi Boroffice was addressing people at the Raheem Place Event Centre, in Owo, some people suspected to be aggrieved members of the town stormed the place and forced him to end his speech.
"Angered by the development, the Senator's bodyguards, numbering over 40, was said to have started shooting indiscriminately at Ile Olisa Mokun and Oponsun areas.
"I further gathered that no lives were lost in the fracas that broke out shortly after the Senator left the town."
However, the State Police Public Relations Officer (PPRO), Mr Femi Joseph, has called politicians in the state to learn to play the game by the rules, urging them not disturb the peace being enjoyed by the people of the state.
He said the command would not hesitate to arrest any politician who foments trouble in the state.