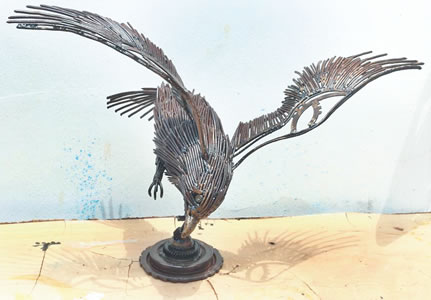 IDENTITIES, a group exhibition featuring Erasmus Onyishi, Stanley Dudu, Obinna Makata, Promise O'nali and Dada Adedayo will open on July 9 at Denk Spaces, 13, Uyo Crescent, Off Emeka Anyaoku Street, Area 11, Garki, Abuja.
A total of 25 paintings, drawings, mixed media and sculptures will be showcased during the show which runs till July 30.
"Identities as the theme of this exhibition implies, gives these artists room to showcase their individual amazing works, express themselves, their style and media," explained show's co-curator, Udemma Chukwuma.
The exhibition, she added, "allows them to convey their experience, emotions and messages, which focus on various subject matters with different opinions. You could easily identify each artist by a mere glance at their work as they have created an identity for themselves."
Some of the works that will engage viewers at the exhibition include Dream Chaser Chronicles ll, Into Pythagoras Labyrinth, Transverse Section Through Dream and  Noogenesis 5 by O'nali. There is also Jennifer and Company, Looking up to the Glorious High, News on Transit' and Blue Repose by Dudu.
"These engaging works arouse very deep thought and emotions. An array of never before exhibited works will come to life and invite you to do some soul searching in a quest to unravel your true identity. Sometimes, we are convinced; we strongly believe we must know who we are, but do we really know our identity," Chukwuma queried.
The first participating artist, Onyishi, is a sculptor and teacher at the Federal University Lafia, Nasarawa State. He won the 2014 edition of the National Art Competition organised by the Nigerian Breweries and African Artists Foundation.
Makata, a full-time studio artist based in Lagos, was born in Enugu State and is a proponent of the African Test Style, a  series of collage works on paper and canvas with fabrics.
O'nali, who studied Fine and Applied Arts at the University of Nigeria, Nsukkais also a full-time studio artist based in Lagos, while Dudu, an alumnus of the Federal Polytechnic, Auchi renders his narrative portrayals chiefly in charcoals, pastels, oils and acrylics.
Adedayo, the second sculptor participating in the show, graduated from Auchi Poly.
CEO of Denk Spaces, an entrepreneurship development hub and work-in art gallery/cultural centre, Ekemelu Nnoli, is curating the exhibition alongside Chukwuma.