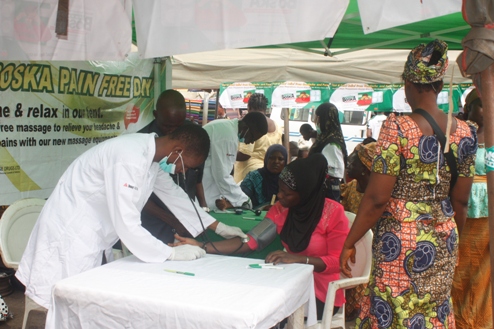 Residents from communities within Ikorodu Local Government Area of Lagos State 

on Friday

 welcomed a team of medical experts from a pain-killer company, Dexa Medica.
The team which included specialists in ophthalmology, otolaryngology and general treatment offered free medical services to local dwellers ranging from high blood pressure and blood sugar check-ups, eye, ear and general body check-ups and treatment alongside the distribution of a drug known to boost body immunity against diseases and infections.
Known as Stimuno, Mr Tunde Ojedokun, the 
Dexa Meica Senior Brand Executive, said the high quality drug would keep the residents safe from diseases caused by "inadequate sleep, extreme weather change, pollutions, toxins, unbalanced diet, lack of exercise and insufficient water intake".
The event tagged "Pain Free Day" attracted hundreds of residents who were also educated on how to manage stress and flu related illnesses by health experts.
The programme also included the distribution of corrective eyeglasses to patients with eye defects and prescribed drugs. 
Stimuno is a recommended brand for the total maintenance of the body system.