Presbyterian Church honours Abia governor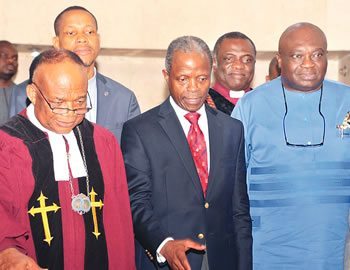 Abia State governor, Dr Okezie Ikpeazu, has been conferred with the honour of "Presbyterian Ambassador" by the Presbyterian Church of Nigeria.
The governor was conferred with this award during the 22nd General Assembly of the Presbyterian Church of Nigeria, held at Yaba, Lagos State, recently, with the Vice President of Nigeria, Professor Yemi Osibanjo, in attendance.
The Prelate of the Church, Professor Mba Uka, in his award citation, said that the church chose the governor for the award based on his outstanding performance in the area of road construction and Aba/Abia infrastructure renewal, among other development efforts.
According to Uka, of particular interest to the church is the reconstruction of Ehere Road at Ogbor-Hill area of Aba, where the General Assembly office (administrative headquarters) of the church is situated.
"We've never had a governor like Governor Ikpeazu in Abia. He is dedicated to his work and everybody can attest to his good works in Abia. The Presbyterian Church of Nigeria has benefited from Governor Ikpeazu's good works in Abia. Today, the road leading to our General Assembly office in Aba, Ehere Road, which was so bad, has been reconstructed by the governor," Uka stated.
In his response, Governor Ikpeazu said: "when we agreed to fix Ehere road and the two other link roads, Umuola and Ukaegbu, we didn't think of a day like this. But this award, which is the first award I have accepted since I became governor over a year ago, means so much to me. You have encouraged me and I promise to do more roads for our people."