NBS report: Former Osun HoS tackles Aregbesola over N147bn, $96. 35m debt portfolio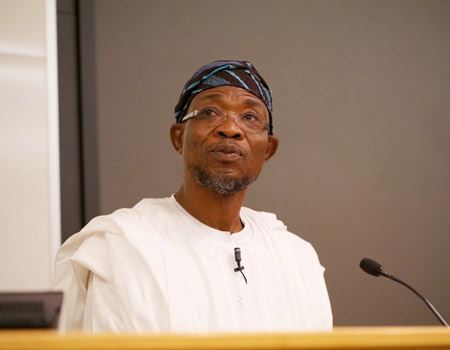 As divergent opinions and criticisms continued to trail the recent report by the National Bureau of Statistics (NBS), detailing the debt portfolio of states in the federation, former Head of Service (HoS) in Osun, Mr Sunday Akinwusi on Wednesday described the debt profile of the state, estimated at N147billion and $96.35million as conservative figures.
He said what Osun State was owing in terms of foreign and domestic debt were in excess of N410billion.
Speaking during a chat with the Tribune Online in Osogbo over the development, Akinwusi, who was the HoS in Osun between 2003 and 2012 stated "the figure of the debt profile released by the NBS is not real. To me, it is a conservative figure. The total debt profile of Osun both foreign and domestic debt are in excess of N410billion."
"They just released that figure to cover their tracks. It is deceitful. I have always said that this state has been plunged into needless debt, a debilitating burden that the generations yet unborn in Osun will have to bear with untold hardship."
"The entire state has been mortgaged and if drastic measures are not taken to salvage the troubled ship of Osun, its destination may be calamitous. They have been hiding their financial books from public scrutiny due to what they have done. Posterity will judge them all."
But, the state government in a press statement signed by the Commissioner for Information and Strategy, Mr Lani Baderinwa, a copy of which was made available to our correspondent said the released debt portfolio of Osun has confirmed the financial prudence and accountability of Aregbesola in public spending.
It reads in part, "the debt profile of Osun released by the National Bureau of Statistics (NBS) has vindicated the state government of Osun's position on how much is owed and paid on blatant lies and blackmail of the opposition who were arbitrary and unreasonable in vomiting irresponsible figures with a view to maligning the government."
"The NBS has put both the internal and external loans, bound and other credit line obtained by the State Government to N179bn ($96, 347, 432, 73 and N147, 069, 973, 626.49) as against the wanton figure of N600bn at a time, N450billion at another and N400billion as found suitable by the bound of hopeless opposition."
"The state government wishes to note that the totality of N179bn includes all loans and all other debt instruments obtained by all administrations that have ruled the state since its creation and those inherited from the old Oyo state."
"Even with the NBS's 179bn debt figure, the government wishes to note that the loan is still within its capacity to access and pay back in a normal economic situation and government has indeed been servicing its debts without public knowledge before the Peoples Democratic Party induced economic recession."
"But for the sudden drop in the federal allocation which was as a result of the mismanagement of the country's resources and brazen corruption by the PDP led federal government, the state would have continued to run without any noise and financial stress as it had been doing. It will be recalled that Osun State government has always been stating that no creditor will grant loan facility that cannot be redeemed by the borrower."
"For what it's worth, we state that the loans obtained by the Aregbesola's administration have been prudently and judiciously used for the undisputable, glaring and transformative developments that are evident in every part of the state. Any thinking or submission contrary to this must be a product of deluded mind and or mischievous head."